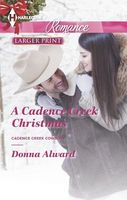 Series:
Cadence Creek Cowboys
(Book 5)
Taylor Shepard has come to Cadence Creek to organize her brother's Christmas wedding. Organizing such a special event might be a little bit stressful -- but she can't deny she's swept away by the town's holiday charm…and by brooding rancher Rhys Bullock.

Loner Rhys has been burned far too many times in the past. He's sure he has city girl Taylor all figured out -- she'll be hightailing it straight back to the city in a few days! But as the snow starts to fall, Rhys and Taylor embark on a tentative winter romance. Could Taylor be the Christmas present Rhys never even knew he wanted?
Very good book. Taylor has come to town to plan her brother's wedding and she's a bit stressed over it. Dealing with one of the groomsmen adds stress of a different type. Rhys seems to know just what buttons to push to rile her up. But there is also an attraction there that she can't deny.
I liked Taylor. She is very good at event planning and she really wants to do a good job on her brother's wedding. When some minor glitches occur and she starts to stress it's Rhys who tells her what to do to fix them. Taylor is used to being independent and only counting on herself and isn't terribly appreciative at first. Her attraction to him is also throwing her off kilter. Besides just trying to avoid the distraction, she sees no future in it since she's headed back to the city right after Christmas. Once the wedding is over and she can relax a little she finds that spending time with him is changing her priorities. Taylor had also been feeling a bit burnt out from her business and was hoping to get her enthusiasm back. She also feels somewhat unappreciated by her family. Being in Cadence Creek gives her a different perspective. The interactions between Taylor and Rhys were good. I loved the way that she would react to something he'd say and he'd just smile because he knew he'd gotten to her. The more time she spent with him the more she fell for him, but she couldn't figure out how to make it work with her responsibility to her business. I loved the way she figured it out.
Rhys had come back to Cadence Creek after the death of his father to help his mom. After having to close his business he is now working as a hired hand and helped his mom buy the diner where she works. When he meets Taylor he thinks she a bit of a big city snob but he can't resist getting closer to her. He sees her intensity when it comes to her job and it reminds him of himself. He understands what she is going through. His attraction to her is strong and he tries hard to ignore it. I loved the way that he ends up being with her, willing to take whatever time he can get with her. I liked the way that he opened up to her about his past and the effect it had on him. Rhys's own insecurities had him settling for just a short time with Taylor when he really wanted her to stay. I really loved the ending and seeing how ready he was to support Taylor in whatever she wanted to do.