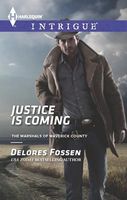 Series:
Marshals of Maverick County
(Book 5)
The armed and dangerous woman trespassing on federal marshal Declan O'Malley's Texas ranch isn't a killer. She's Eden Gray, and the P.I. is trailing trouble and unfinished business. He's the last person she wants to visit, but now a vengeful enemy is targeting them both.

Eden's orders were very clear: kill Declan, or her sisters die. Sworn to find out who's after her and why, she's forced to team up with the devastatingly attractive lawman.

As desire flares, a decades-old secret erupts, turning everything Declan believed into a lie. Everything except the passion driving him and Eden to fight for a future they might not live to see.
Revenge, jealousy, secrets and passion - this book has them all. Eden has been sent to kill Declan or her sisters will die. She doesn't want to do it, and manages to convince Declan of the danger to them both. As they begin investigating who is trying to kill both of them, the suspect list grows and gets more complicated. Add to that an attraction between the two of them that won't go away and you have a recipe for disaster - or an incredible future.
Eden doesn't want to kill Declan, so she lies in wait for him to warn him what's going on. She doesn't blame him for his initial skepticism, but events soon show him she's telling the truth. Because she has a motive, in that Declan arrested her father for murder, she has to work extra hard to get him to trust her. She is also incredibly attracted to him, but knows that doing anything about it right now would be a very bad idea. I loved the way that she stays an active part of the investigation, even when Declan tries to protect her. She is also pretty quick to learn his moods and is great at defusing some of his more volatile reactions. I liked her loyalty to her father, but that she also had no illusions about what he was like. I loved the way that she was there for Declan as he learned more about his background, not pushing but available when he was ready to talk.
Declan is the youngest of Kirby's boys. He's very good at his job as a marshal and loyal to his family. When he finds Eden waiting for him he isn't inclined to believe her at first, given her relationship to one of the people he's arrested. He can't deny the danger they both are in and finds himself compelled to protect her. He's wary about trusting her at the beginning, but it doesn't take long for his instincts to kick in and tell him that he can. I loved the way that he didn't deny or hide his attraction to her. The more they investigate who is after them, the more it seems to be very personal to both of them. I loved his protectiveness toward Eden and his frustration when she wouldn't do what he said when he tried to keep her safe. Eden's presence was helpful to him as secrets kept by Kirby and Stella about his background rocked his world. I loved the way that he was able to lean on her. I loved his caution at the end and how she reacted to everything he said.
There is still no resolution of the ongoing question of who killed the former director of the children's home where the boys grew up. There were a couple possibilities mentioned in this book, but nothing conclusive. I'm looking forward to the next book which should wrap it all up.