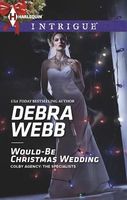 Series:
Colby Agency: The Specialists
(Book 3)
Emmett Holt was laying everything on the line. The deputy director of Mission Recovery had gone way undercover to bring down a criminal mastermind. It had to appear, even to his own people, that he was involved in a plot to kidnap his boss's sister. But Cecelia Manning wasn't what he'd expected.

Emotional entanglements made him vulnerable in his line of work. So Emmett made his heart as cold as a Christmas blizzard. But as Cecelia collaborated in his risky ploy, his admiration for her was surpassed only by his raging desire. He'd known from the start he could lose his career, but never imagined he could gain a wife.
Wow. This was a fantastic conclusion to the trilogy. Emmett has been playing the part of a traitor in order to bring down an international terrorist. He's done such a good job that his own people are beginning to doubt him. When the final step is to kidnap his boss's sister he knows he's in trouble. Cecilia isn't anything like what he expected. When she offers to help him he is amazed by her talents. He always knew that he could lose his career if this went wrong, he hadn't realized he could lose his heart.
I loved Emmett and Cecilia. When he first learned of Isley's plans to release a deadly virus in the world and to punish Thomas Casey for his role in Isley's father's death he knew that he had to do whatever it took to stop him. He spent months building his role as a traitor in order to get close enough to take him down. He did it all on his own, not telling anyone about it in order to make it look more credible. Emmett has always been a loner, not cultivating friendships or relationships because those could make him vulnerable. He also found that keeping secrets as he must is hard on any kind of relationship. When he got word of the plan to kidnap Cecilia and use her against Thomas he started taking steps to protect her at the same time he would have to use her. I loved the way that their first meeting/date totally surprised him with her beauty but also her intelligence. When they were attacked her coolness under stress made him reevaluate the plans he had made, making it possible to be a little more inventive. He also didn't expect the intense physical attraction he felt for her. He knew that nothing could come of it because of his actions but he found his mind going there anyway. I really liked the way that he ended up telling her everything and accepting her help. He was surprised by some of her insights. He was also very nervous about the way that she could see past his walls and seemed to understand a lot more about him than he was comfortable with. I also liked how he was so supportive of her future plans and told her that he was very confident in her ability to carry them out.
Cecilia is ready to move on past her husband's death. She has been working in an admin job for the CIA but recently put in an application to become an operative. She was accepted and is excited about it, but her daughter and brother don't think she is able to do it. She is frustrated by their attitudes but isn't going to let it stop her. She has also joined an online dating site, where she met Emmett. Before they go on their first date she is warned about him by her brother, who is Emmett's boss. When Emmett protects her from several attacks that first night, she is sure that he isn't the bad guy he's being accused of being. She tries to be somewhat cautious about those feelings, worried that the attraction she feels for him might be coloring her view. But thanks to her experiences with her various operative family members, she can also see past the role he's playing as a bad guy to the white knight that is his true self. I loved the way that she refuses to sit back and let him do everything. By the time she gets the whole story from him she knows that she is going to do everything she can to make sure he survives the operation with career and life intact. She has a great way of standing up to him and making sure he listens to what she has to say. She also discovers that the emotions she thought had died with her husband are alive and well when it comes to Emmett. When the final showdown came I loved her part at the very center of it.
Over the three books, Emmett's part wore on him more and more. Trying to run an operation like that completely on his own was incredibly stressful. In the second book it was really hard to tell if he was a good guy or had really gone over to the dark side. As he took center stage in this book it all became clear but the tension was really strong. I loved the mutual respect that Emmett and Cecilia had for each other even before their emotions took over. The final showdown was intense, and the culmination of the romance was fun.