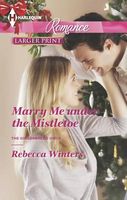 Series:
Gingerbread Girls
(Book 2)
When you wish upon a star…

After single dad Rick Jenner and his little daughter stumble upon Andrea Fleming's toy shop one snowy evening, he can't get Andrea's beautiful eyes out of his head. But with Christmas coming up, he can't afford any distractions.

Andrea is no stranger to heartache, and Rick has it written all over his face. Her head tells her to stay away, but nevertheless she is irresistibly drawn to this twosome in need of a miracle.

With a few festive sparks, a little girl's yuletide delight and a toe-curling kiss under the mistletoe…this Christmas, anything could happen!
Good book. Andrea is still recovering from the death of her husband three weeks after their wedding. Rick and his daughter Tessa come into her toy shop and Andrea is immediately drawn to them. Rick lost his wife and is dealing with being a single dad. He had no plans to get involved with another woman but he couldn't get Andrea out of his mind. Once he accepted his feelings nothing was going to stop him from pursuing her.
When Andrea first sees Rick and his daughter outside her shop she is drawn to him. She is still mourning her husband and doesn't understand how she can be attracted to Rick. When he lets her know he is interested in her she tries to discourage him, but her own actions show that she is just as interested as he is. Andrea is afraid to get too involved because Rick is a firefighter and she fears what would happen to her if she were to lose another man she loved. Andrea also comes to care for Rick's little girl Tessa although they did get off to a bit of a rocky start. Because the accident that killed her husband also injured her, Andrea isn't able to have children. She sees this as a drawback and is sure that no man will be able to love her if she can't have kids with him. I loved seeing Andrea start to open up with Rick and see the possibilities.
Rick had lost his wife to leukemia and is coping as a single dad. For awhile after his wife's death everyone indulged his daughter and she is beginning to be rather spoiled. So when she pitches a fit in the toy shop he isn't exactly happy with Andrea's actions, but he is also attracted to her. He hasn't felt like that in a long time and he isn't sure at first if he wants to be. I liked the way that he decided to risk it and started pursuing Andrea. He was frustrated by her reluctance, but he wasn't going to give up. When she finally confessed her fears about his work he was stunned, especially when she explained that she saw the same kind of fears in his daughter. I loved how he found a way to continue doing what he loved while at the same time relieving their fears.
There was also a concurrent storyline about an arsonist in the area. It was interesting to see how they figured out who was doing it. The connection of the arsonist to Andrea and Rick made for a nice bit of suspense. It also helped move the romance along.