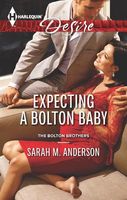 Series:
Bolton Brothers
(Book 3)
First comes the baby…and maybe then comes marriage?

He'd never expected to see Stella Caine again. After one wild night, she'd walked away -- right after revealing that her father was the one man who could threaten the biggest business deal of Bobby Bolton's career. So Bobby left her alone.

Until now.

Now Stella is pregnant and staying in his condo. This is a complication that can be solved only one way: marriage. Bobby wants to do the right thing. Hell, he wants her -- has never stopped wanting her. Surely he can convince her to say yes, even without those three little words….
Good book. Bobby hadn't forgotten his encounter with Stella, but respected her wishes to leave her alone. Then she came back to see him and tell him that she's pregnant. Bobby is stunned but determined to do the right thing, if only he can convince her.
I really liked Bobby. I wasn't sure about him in the earlier books, as he seemed a bit like the typical smarmy salesman. In this book we get to know him better. Bobby is a people person, which is why he's so good at sales. He has a great talent at being able to read most people. As the youngest brother he feels like he needs to prove himself, which is why he's gotten involved with building the resort. He found out after the fact that Stella is the daughter of his biggest investor, the same one who is super conservative and not likely to take his daughter's pregnancy well. I really liked the way that Bobby is not upset about Stella's pregnancy, but is actually kind of excited about it. He has been a bit of a player before, but since meeting Stella hasn't been interested in anyone else. He is surprised when she turns down his proposal but he's not going to give up. One of the things I liked best about Bobby was the way that he actually listened to Stella and tried to do things that would make her happy. I loved it when he took her to the shop and got the two ladies to get her the supplies she needed to do her work. It also showed how comfortable he was with babies when he was playing with Josey's little girl. I loved the way he wanted her more with every day they were together, but he sure was an idiot when he neglected to tell her that he wanted her to stay. It was great when his two sisters-in-law sat him down and pointed out where he'd gone wrong. I loved seeing him stand up to her father in public before going after Stella.
Stella had a terrible relationship with her father ever since her mother died. He was a cold man who never paid any attention to her unless he was putting her down. She has become an excellent fashion designer but still gets no approval from her father. Her designs are a bit out there and her ultra conservative father doesn't approve of them at all. I liked the way she does her own thing anyway. When she met Bobby she was drawn to him because he actually noticed her and talked to her, something that didn't happen to her often. She only was with him that one time because she didn't want to cause him trouble. When she discovered she was pregnant she went to him because she wanted to find out if he would be involved with the baby or distant like her father. She was stunned to find out just how involved he wanted to be. She wants nothing more than to have a family of her own, but she doesn't want a marriage of obligation. She wants to be wanted and loved for herself. The more time she spends with Bobby the deeper she falls for him. I felt really bad for her with the way that her father treats her. I liked the way that Bobby supports her and backs her up so she can get what she needs. I had high hopes for her when she stood up to her father at the end, but then she backed down and I wanted to smack her. I hope that Bobby's love gives her the strength that she needs to be her own person.