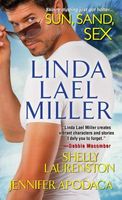 LINDA LAEL MILLER
One Last WeekendCollege sweethearts Teague and Joanna Darby, once passionately in love, are on the brink of divorce. When a ferry strike leaves them stranded together at their beloved beach cottage, it could be the most awkward weekend ever. Or the perfect chance to fall for each other all over again-one steamy encounter at a time...
Teague and Joanna are about to call it quits on their marriage. Their friend and attorney tells them to go spend a last weekend together at their beach cottage and actually talk to each other. It's obvious from the start that they still care about each other, they have just lost the ability to truly communicate. When bad weather strands them at the cottage their passion for each other comes back to the surface, opening up their hearts also. Teague had put so much effort into his business that in the last few years it had taken all his time. Now he's ready to enjoy the fruits of his labors but he makes his changes without talking to Joanna. She sees them as a way for him to put her aside, that he doesn't love her anymore. He has stopped talking to her about his dreams for the future. Meanwhile, Joanna is a successful cookbook author who is also ready to try something different. But she can't seem to reach her husband to share her dreams. She's seen so many of their friends split that she's afraid she's seeing those signs in her own marriage and is trying to protect herself. She's actually pretty insecure about her ability to keep her husband. I loved the way that they finally started talking to each other after Joanna lost her temper and yelled at Teague. I loved the phone conversation with their daughter. There's a great twist at the end that I suspected was going to happen, but it was terrific anyway.
JENNIFER APODACA
You Give Love a Good Name
Lexie Rollins is a wedding planner on the lam. All she did was defend herself (with a staple gun) against a sleazy groom-who knew the Assault and Battery charges would stick? Now Lexie's "vacation" at an exclusive resort has put her at the top of gorgeous bounty hunter Nick Vardolous's list. And Nick always gets his woman-every which way imaginable...
Really enjoyed this story. Lexie has been helping out with her mother's wedding planning business while mom recovers from a heart attack. She really hates it and can't wait to be done. Her mom is claiming she's not well yet, and her brother and sister aren't holding up their ends of the business, leaving Lexie to deal with it all. Lexie had finally had enough. When she had to defend herself against a groom-to-be, she got arrested on assault charges. Once out on bond, she starts having to deal with a stalker. Problem is that no one believes she's in danger, so she packs up and heads to San Diego to get away - forgetting about her court date. Enter Nick, bounty hunter. He's determined to bring her back, until he finds out about her stalker. Now he wants to protect her as much as he wants to get her out of his hair. There is an intense attraction between the two of them. They decide to go with the physical but keep their emotions out of it. The difficulty is that Nick sees the strong but vulnerable woman who's being taken advantage of. He wants to stay away, having been burned by a relationship where he hadn't been able to protect the woman from a vengeful ex, but he can't do it. The more time he spends with her the more he wants her. I really liked the way that he believed her about the stalker and believed in her and her dreams. I liked Lexie's determination to keep herself safe. When her family was no help she took matters into her own hands. I really liked her interactions with Nick and the way she didn't let him steamroller her into doing something she didn't want to do. I was glad to see her go after her dream of writing while she was away from her family and their dramas. It was fun to see her go after Nick for what she wanted and deal with her growing feelings. Loved seeing her "torture" him with her attitude. I also liked the way she understood his motivation to be a bounty hunter and the way she supported his dreams for his future. Her confrontation with the stalker at the end was resolved in the perfect way.
SHELLY LAURENSTON
My Kind of Town (The Long Island Coven #1)
Deputy Kyle Treharne of seaside Smithville, North Carolina, hates Yankees-even exotically beautiful ones like Emma Lucchesi. The sexy New Yorker's got trouble written all over her, and she knows more than she's telling about the increasingly strange goings-on in his town. But if the lady's got a few tricks up her sleeve, so does the lawman. And it's high time for every wicked thing to be deliciously revealed..
This story was better than I expected since I'm not really into shifter stories. Emma had come to Smithville looking for a power source for her coven. She didn't expect to be attacked by something she couldn't quite identify. She just knew that it had to be destroyed. She didn't expect to end up taken to the hospital by a big sexy lawman - and kept there. There was something odd about the residents of the town, other than the fact that they were all incredibly good looking. When she's attacked in her hospital room Kyle takes her to his home where the weirdness starts to increase. When the other ladies of the coven come to check on her, their compulsion to come is finally explained. I liked Emma a lot. She was a bit freaked out by Kyle and the rest but they don't particularly intimidate her. I loved seeing her stand up to Kyle. Some of the conversations between them were hilarious. Her drunk scene was fun. As a shifter Kyle knows what it's like to have secrets. When he rescues Emma there's something about her that tells him she's more than just an accidental tourist. He's really attracted to her and very possessive around his stepbrother and others. I loved the interactions between them. He's protective but also just plain has fun with her. I really enjoyed the heat between them and how things ended up working out. I also enjoyed the rivalry between Kyle and his stepbrother. It was fun to see how their insults sort of confused Emma until she learned the truth about them.