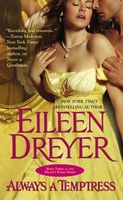 Series:
Drake's Rakes
(Book 3)
HIS GREATEST BATTLE IS JUST BEGINNING ...
Major Sir Harry Lidge has done his duty. After losing too many good men in battle he's ready to live a life free of care. But first he has one last mission: kidnap the most outrageous woman in London -- the same woman who betrayed him nearly a decade earlier -- and find out what she's concealing before her secrets take down the crown.

HER HEART IS THE ONLY THING SHE WON'T RISK .. .
Surrounded by ardent admirers and a few loyal friends, Lady Kate Seaton glides through the ton armed with nothing but couture gowns and bon mots. No one suspects that beneath her lighthearted facade lies a sorrow so scandalous she'll do anything to keep it hidden. But only when she trusts Harry with the truth can she begin to heal. And only when Harry trusts her with his heart can he protect both his country and the woman he loves.
Fantastic book full of scandal, intrigue and redemption. Harry is back in England after ten years of being at war. He's ready to follow his dream of traveling the world, but has one last thing to do for his friend Drake. He has to kidnap Lady Kate and find out what she has to do with the group who is trying to bring down the monarchy. He will believe anything of her since she betrayed him when they were younger. Kate is a widow who spends her days courting scandal. She avoids Harry whenever possible because of the way he betrayed her when they were younger. She is stunned to find her suspects her of treason.
Kate appears to be a strong woman who doesn't care what society thinks of her. She lives her life the way she wants to. Years ago she and Harry had been friends, then had fallen in love. Her father was going to marry her to an old man and Harry promised to save her, but then he deserted her and left her to her sadistic husband. She has never forgiven him. When he kidnaps her he accuses her of treason and threatens her if she doesn't tell him what he needs to know. Meanwhile Harry had been told lies about her and offered a chance to join the army and get away from her. Once they actually start to listen to what each has to say things start to change between them. Both must learn to trust the other one again. While Harry made me really angry at the beginning with his attitude toward her, once he learned the truth his actions completely changed. I really loved the caring and patience he used to help her heal from her traumas. It was obvious that he still loved her but he was very good at denying it to himself and others. I got a bit frustrated with his tunnel vision regarding his future, as I waited for him to realize what was important. Kate's life during her marriage was so horrific it was amazing that she was as happy as she seemed to be. When Harry made the accusations he did she couldn't understand how he could think that of her. When he confronted her with the things her father had told him she was stunned and furious. I loved the way that she disproved his beliefs. Even so, she was extremely wary of trusting him in any way because of her experiences. I enjoyed seeing her confound him with the truth of her life as it really was. I also liked seeing how she ended up being just as sensitive to his traumas as he was to hers. Their reconciliation wasn't easy and it wasn't fast, but it was believable.
The mystery of the missing information is very well done. Someone is trying to kill Kate because of something she has or knows but she is unaware of what it is. Harry is determined to protect her and it isn't an easy task. He has the help of the other Rakes, plus an interesting assortment of her friends and employees. I loved Bea and her unique way of communicating. Kate and Harry end up in some very interesting situations as the search comes to a head. Some are funny, some are scary and some are heartbreaking.