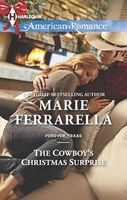 Series:
Forever Texas
(Book 9)
The Best Christmas Present

Since the first grade, Holly Johnson has known that Ramon Rodriguez is the only man for her. But the carefree, determinedly single Texas cowboy with the killer smile doesn't have a clue. Until they share a dance and a kiss…and Ray finally sees his best friend for the woman in love she is.

With his brothers racing each other down the aisle, Ray figured he'd be the last bachelor in Forever. That was before the night that changed his life. He can't believe the sexy, beautiful lady who arouses heart-stopping desire is his pal and confidante, and loving aunt to the most adorable little girl. Now that he realizes what he's been missing, Ray plans to make up for lost time…starting with the three little words Holly's waited thirteen years to hear.
And the last Rodriguez man goes down for the count. Holly and Ray have been friends since first grade. She has also been in love with him, but he is clueless. Then his eyes get opened to just what he has been ignoring and he has to figure out how to show Holly just how much he really cares.
I loved Holly. She is a hard worker, putting in long hours at the diner, taking care of her mother and niece and also studying for her nursing degree by taking classes online. This doesn't leave her much time for having fun. Then one night she gets talked into going out with some friends and ends up dancing with Ray. Suddenly he's looking at her in a whole different way and she's not sure how to deal with it. She has spent so long being his friend and hearing about his woman troubles that having him look at her like one of those women is disconcerting. She's not going to complain, she's going to enjoy it for as long as it lasts. She just hopes that their friendship won't be hurt after it's over. I really enjoyed seeing the way that Miss Joan has been able to see what Holly's feelings for Ray are all this time and takes it upon herself to try to move things along. I loved seeing Holly start to enjoy Ray's attentions. I especially loved seeing her go for what she really wanted that night in the diner. Then it became her turn to be clueless the night of Mike and Sam's wedding when she didn't understand what Ray was trying to tell her, thinking that he was going to break up with her. I loved her reaction when she finally got it.
Ray was so much fun to watch. In previous books he had been very much the good time guy, buzzing from woman to woman. He's always been friends with Holly, who he can talk to about anything. She's always just been his good buddy, until the night he rescues her from some unwanted attentions. Suddenly he's seeing her as a sexy woman and he's a little freaked out about it. When he finds himself kissing her, the desire gets a little out of control. I loved seeing him try to reconcile the two Hollys and getting really confused about his feelings. I also loved the way that his longtime friendship with her has enabled him to know her far better than he thought. I loved seeing his confidence in her after she delivered Alma's babies at the diner and how much it meant to her. I really enjoyed his complete confusion about his feelings after he and Holly had made love. I really enjoyed the way his brother Rafe cornered him about his mood and figured out what the problem was. Poor Ray was so shook up the night of the wedding that he wasn't making a whole lot of sense when he was talking to Holly. I loved seeing him finally get it right and his happiness was fantastic.