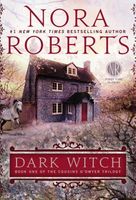 Series:
Cousins O'Dwyer Trilogy
(Book 1)
With indifferent parents, Iona Sheehan grew up craving devotion and acceptance. From her maternal grandmother, she learned where to find both: a land of lush forests, dazzling lakes, and centuries-old legends.

Ireland.

County Mayo, to be exact. Where her ancestors' blood and magic have flowed through generations -- and where her destiny awaits.

Iona arrives in Ireland with nothing but her Nan's directions, an unfailingly optimistic attitude, and an innate talent with horses. Not far from the luxurious castle where she is spending a week, she finds her cousins, Branna and Connor O'Dwyer. And since family is family, they invite her into their home and their lives.

When Iona lands a job at the local stables, she meets the owner, Boyle McGrath. Cowboy, pirate, wild tribal horsemen, he's three of her biggest fantasy weaknesses all in one big, bold package.

Iona realizes that here she can make a home for herself -- and live her life as she wants, even if that means falling head over heels for Boyle. But nothing is as it seems. An ancient evil has wound its way around Iona's family tree and must be defeated. Family and friends will fight with each other and for each other to keep the promise of hope -- and love -- alive...
I loved this book. It had it all - location, family, friends, romance, magick, and a fight against evil. The story is set up in the first two chapters, where we have Sorcha, the original Dark Witch, and her three children. Her husband is off fighting and Sorcha is fighting illness. She is also fighting against an evil sorcerer, Cabhan, who wants her and her powers and is willing to do anything to get them. As the chapter ends she has split her powers among her three children and sent them away to protect them. She lies in wait for the sorcerer, to finish him off before she dies.
Moving ahead to the present, we have Connor and Branna who are brother and sister descended from Sorcha. They sense the coming storm but know it will take three of them to form the bond that will defeat it. Enter Iona, their American cousin, who makes the circle complete. She is in search of a place where she feels she belongs, and finds it with her cousins. She also finds a job doing what she loves - working with horses. She feels an immediate connection with her boss, Boyle. But before they can think about a future together, they must deal with the return of the sorcerer.
I loved the way that the idea of family and friends is so important. Besides Connor, Branna and Iona, there are also their friends Boyle, Fin and Meara. Each has a distinct personality that is important in the scheme of things. Branna is the leader, the one doing most of Iona's training. She is a bit of a loner, keeping a lot to herself. She has a history with Fin. They were childhood sweethearts, deeply in love, until they discovered that Fin is a descendent of Cabhan. Now she has trouble trusting him, even though she knows they need him in the coming troubles. Fin has never stopped loving Branna. He knows she doesn't trust him but he'll be there for her just the same. Connor is the easy going, social one of the group. He's friends with everyone and loves the ladies. He's sometimes caught in the middle of all the drama affecting the others. Meara has also been friends with them all her life. She and Branna are like sisters and she will be there to help however she is needed also. She has feelings for Connor, but he's oblivious.
Then we have Iona and Boyle, the focus of this book. Iona has been searching for her place in the world and finally finds it in Ireland. In spite of a miserable upbringing with parents who just didn't seem to care, she has a sunny personality. I loved seeing the effect of that personality on Boyle, who is pretty serious. Her actions tend to keep him pretty off balance. There's an intense attraction between the two of them that has him pretty freaked out. It moves along quickly until it runs up against his fears and causes an emotional slowdown in their relationship. The whole scene with him, and later her girls' night with Branna and Meara to deal with it was very emotional. On the other side, I loved the way that Connor and Fin dealt with Boyle and made fun of his idiocy as only guys can do.
I really enjoyed seeing Iona come into her own as Branna and the others trained her in the magick she needed to know. She went from very tentative and nervous at the beginning, to a growing confidence in her abilities through the rest of the book. I loved seeing the way that Boyle was there to support and protect her. Their connection was a huge part of the final confrontation in this book.
One of my favorite things about this book was the setting. Nora Roberts always does anything Irish well and this was no exception. She spent time in this part of Ireland doing research for the books and it shows. Having visited County Mayo several years ago I was thrilled to recognize the places she described. Ashford Castle is located next to the village of Cong, just as described. I loved her mention of the filming of "The Quiet Man" there and the parade for Maureen O'Hara just a few years ago. I also loved her description of Ballintubber Abbey as it brought back my memories of walking those grounds myself.
I have read some reviews that complain that this is simply a mashup of several of her previous series. While I can see the similarities, there is enough of a difference that I have not been disappointed in the book at all. I can't wait to read the next one.