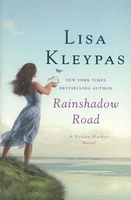 Series:
Friday Harbor
(Book 2)
Lucy Marinn is a glass artist living in mystical, beautiful Friday Harbor, Washington, with a boyfriend, Kevin, who she believes is her soul mate. She has always had a magical side -- a gift that finds its way into the breathtaking glasswork she creates -- and she struggles to keep it contained. But when Lucy is blindsided by the most bitter kind of betrayal, she questions many of her choices. Her boyfriend leaves her and his new lover is none other than Lucy's own sister. Lucy's bitterness over this devastation is multiplied by the fact that she has constantly made the wrong choices in her romantic life.

Meanwhile, facing the severe disapproval of Lucy's family, Kevin asks his friend Sam Nolan, a local vineyard owner on San Juan Island, to "romance" Lucy so that she can more easily move on. But when Sam and Lucy begin to feel real sparks between them, Lucy must ask herself if she can easily risk her heart again.

As Lucy questions her beliefs about love, loyalty, old patterns, mistakes, and new beginnings, she explores the possibility that some things in life -- even after being broken -- can be re-made into something beautiful. And that it is only by discovering who you really are that you can find the one who truly deserves you.
Very good book. The beginning lays the groundwork of the strained relationship between Lucy and her sister Alice. Alice's childhood illness caused her to be catered to and spoiled and as an adult she can be manipulative. As a child Lucy became interested in glasswork and as an adult it offers her an escape from her troubles. I really loved seeing her creative process. The work she did on the window for Sam was amazing. I also liked the touch of magic that is involved with her glasswork and how it affects her stay with Sam. When Lucy's boyfriend dumps her for her sister she is bitter about what happened and vows to stay away from men. She meets Sam, who she is attracted to, but refuses to enter a relationship with since he is anti-commitment. When she gets hurt in an accident he offers her a place to stay where he can care for her. They are honest with each other about their feelings about relationships and find themselves in an unusual friendship. I loved the way that they were able to talk about anything with each other. This comfortable feeling Lucy feels with Sam starts to change and she realizes that she's on the way to getting her heart broken again.
Sam and his siblings are the children of two alcoholics. The childhood that they had affected the way that they look at love and relationships. Sam doesn't feel that he is a good bet for anything long term so he keeps his relationships short, simple and light. The only people who get close to him are his family members, especially his niece. When he meets Lucy he is attracted to her but senses that she is not the type of woman he is usually involved with. I loved the way that he seemed to know just what she needed at any given time. He could be sweet, funny, or sarcastic at any given time. I loved the way that he took care of Lucy after her accident. That was the beginning of her getting under his skin and showing him that maybe he had more to give to a relationship than he thought he did. I loved seeing how close he is to the land of his vineyard and how his own bit of magic has affected his career choice. It also gave him another connection with Lucy.
All the secondary characters were also well done. Alice was especially important in her role. I really didn't like her through most of the book. She had no clue and did not care about the consequences of any of her actions. It wasn't until the end that I started to see how the past had affected her also. Sam's niece Holly was a sweetheart and seeing Sam with her showed just how much love he had to give if he could just break free of his fears.