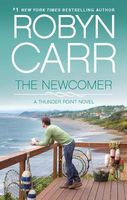 Series:
Thunder Point
(Book 2)
Single dad and Thunder Point's deputy sheriff "Mac" McCain has worked hard to keep his town safe and his daughter happy. Now he's found his own happiness with Gina James. The longtime friends have always shared the challenges and rewards of raising their adolescent daughters. With an unexpected romance growing between them, they're feeling like teenagers themselves -- suddenly they can't get enough of one another.

And just when things are really taking off, their lives are suddenly thrown into chaos. When Mac's long-lost ex-wife shows up in town, drama takes on a whole new meaning. Mac and Gina know they're meant to be together, but can their newfound love withstand the pressure?
Very good book. As always there is a depth to the characters and story that is different than most. They are real people dealing with the same issues the rest of do - tight budgets, teenage drama, finding time for your significant other.
This one picks up a few months after The Wanderer ends. Mac and Gina are continuing to develop their relationship. It isn't easy to spend time together with as busy as their lives are. Just as things are looking up for them Mac's ex-wife comes to town. Ten years after she deserted the family she's back, claiming to want to make amends. Mac doesn't trust her and investigates what she's been doing since she left. Meanwhile, her appearance is creating some emotional problems for Mac's daughter Eve, which Mac deals with very well. He also makes sure that Gina has no insecurities about CJ's reappearance. Gina is dealing with some family issues of her own. Her daughter Ashley is suffering through a bad breakup with her boyfriend. Gina has to track down Ashley's father who she hasn't seen since before Ashley was born. Both Gina and Mac need to decide the future of their relationship.
Cooper and Sarah are still enjoying each other's company. Coop never expected to be so content staying in one place but he's made a home for himself in Thunder Point. He has made friends and has what looks like it could be a permanent relationship with Sarah. He's an excellent mentor and role model for her brother Landon and other teens in the area. Partway through the book he gets thrown an unexpected curveball that turns into a life changing event. He has to decide how that change will impact his relationship with Sarah. At the same time things are changing for Sarah. She has always been independent and self-reliant, refusing to depend on anyone else for her needs. She has been her brother's guardian for ten years and is happy with the way he has settled down in Thunder Point. Her relationship with Cooper is going great even though she has been trying to keep her work and personal lives separate. When she gets news of a possible transfer she keeps it to herself as she worries and wonders about the effect it could have on all their lives. She is going to have to open up with both Coop and Landon soon as decisions will have to be made.
There is plenty going on with other members of the town also as they are all connected throughout the book. Mac's Aunt Lou still has her own relationship going on as well as dealing with worry about her family when CJ returns. Her closeness with Eve is apparent when Eve goes to her with worries of her own. Lou also spends some time with an old adversary as they work together with Gina's mother. We meet Spencer and Austin, through Cooper, and they end up playing a part in Thunder Point's future.
One of the best storylines is Ashley's. In the first book her romance with Downey is sweet as he gets ready to head off to college. He's been a big part of her life for the last couple years. He has watched out for her, protected his younger brother and was a large part of solving a mystery in the first book. But going off to college has changed him and not for the better. When he breaks things off with Ashley in a very cruel manner she doesn't take it well. Add in problems with a jealous new girlfriend, sexting and bullying and Ashley ends up in a very bad place emotionally. I loved seeing the realism of the way the issues were dealt with. It was good to see Ashley come out the other side much stronger. I also loved her developing friendship with Downey's brother Frank. He goes a long way toward healing her self esteem and opening her eyes to a better future. I'm looking forward to seeing more of him.