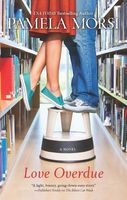 Meet Dorothy Jarrow: devotedly unsexy librarian

Buttoned-up book lover DJ is all sensible shoes, drab skirts and studious glasses. After an ill-advised spring-break-fueled fling left her mortified, she's committed to her prim and proper look. When she's hired by a rural library in middle-of-nowhere Kansas, she finally has the lifestyle to match -- and she can't wait to get her admin on.

But it's clear from day one that the small-town library is more interested in circulating rumors than books. DJ has to organize her unloved library, win over oddball employees and avoid her flamboyant landlady's attempts to set her up with the town pharmacist. Especially that last part -- because it turns out handsome Scott Sanderson is her old vacation fling! She is not sure whether to be relieved or offended when he doesn't seem to recognize her. But with every meeting, DJ finds herself secretly wondering what it would be like to take off her glasses, unpin her bun and reveal the inner vixen she's been hiding from everyone -- including herself.
Overall a good book. I loved the librarian theme and the chapter headings were great. Each chapter was given a dewey decimal classification and that became the chapter name. That heading related very well to the contents of that chapter - very clever! DJ has come to Verdant to become the head librarian/administrator for the town library. She has been given a place to live by the head of the library board - the upstairs apartment of her home. That same lady also has another goal - to hook DJ up with her son the pharmacist. DJ is horrified to see that that pharmacist is the man she had a one night stand with eight years earlier. She is relieved (and a little insulted) that he doesn't recognize her. While her opinion of him isn't good at the beginning, the more she gets to know him, the more she comes to like him.
I liked DJ most of the time. She has great enthusiasm for her job as the head of the library. She wants to make the library the best it can be. The interior is not what she expected, as it is dark, gloomy and underutilized. Her employees are quite a collection of characters. There is Amelia, the woman who has been doing the job for the last several years and isn't happy to have DJ there. She is grumpy, mean and seems to have no interest in making things any better. There are the two bookmobile drivers, Amos and Suzy. Amos is a veteran with some PTSD issues, but is overcoming them pretty well. Suzy is a nice girl who loves to know everything that is going on and to share it with anyone who will listen. James is the employee who is rarely seen but heard from often. He is mildly autistic and doesn't like change, but is very good at what he does. She is not quite sure what to make of her landlady who seems more interested in pushing her toward her son the pharmacist than in what DJ can do for the library. DJ wants nothing to do with Scott, who turns out to be the man she had a one night stand with back in college. She does her best to avoid him, but in a small town that isn't possible. She also believes that he is a player who cheated on his wife, had affairs with married woman, and preyed on women during spring breaks. But as she gets to know him, that opinion doesn't match the man she is getting to know and care for. I got rather frustrated with her judgmental attitude toward him when she didn't really have anything to base it on. I liked seeing the way that her opinion did change. Their romance seemed to develop pretty slowly as DJ got to know Scott as he really is. I loved seeing the way that she opened up to him in the wheat field. I kept waiting for her to tell him about their shared past. I loved seeing her happiness with the surprise Scott had for her when she got out of the hospital.
Scott turned out to be a real sweetheart. He had been in that bar eight years ago looking for an experienced woman so he could learn better techniques in lovemaking. When he hooked up with DJ he didn't know she was even less experienced than he was, but it didn't seem to matter since they were pretty explosive together. Eight years later he's in his hometown, divorced from his wife (who turned out to be gay), and taking care of his widowed mother. There aren't many single women in town so he's not sure he'll ever find someone to love. When he meets DJ he doesn't understand why she seems to dislike him on sight. There is something about her that reminds him of the girl from eight years ago that he hasn't been able to forget. His mom keeps trying to throw them together and as she does he likes what he learns about DJ. I enjoyed seeing him show her around Verdant and introduce her to people. I loved the way he took her out in the wheat field and showed her his method of getting away, and later introduced her to what the wheat harvest meant to the whole town. His patience with her as got physically closer was great as he knew what he wanted and was willing to wait. I loved his willingness to help her with her library project. The way he stepped in to finish the project as a surprise to her while she was in the hospital was a wonderful way to show his feelings. I loved the way that he got so many others involved.
The only real problem I had with the book was the ending. The last chapter ends with him seeing something that links her to the girl he knew those eight years ago, then it cuts to an epilogue that takes place eight years later. There is no discussion of that night or why he didn't recognize her. It was terribly frustrating because I really wanted to know.