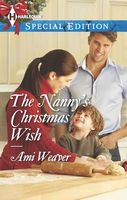 Josh Tanner and Maggie Thelan share one unbreakable rule. . .

No romantic entanglements. Period.
So the lonely doctor hiring the former teacher as a live-in nanny for his little boy shouldn't be any kind of threat to their creed. Especially since Josh won't let go of the past -- and Maggie can't tell Josh who she really is. . .

But rules are made to be broken. . .
and while Maggie only wants to know the nephew she never knew she had, deeper feelings keep getting in the way! As the holiday season creeps closer, his rules collide with her secret. Can their unexpected love survive the truth?
This was a very good book with some intense emotions. I really liked Maggie, but she did make a really big mistake at the very beginning. A year later she is still reeling from revelations that came out at her father's death. He had another daughter that he hadn't told his family about. That daughter is dead and Maggie is devastated over the fact she'd never get to know her. When she finds out that her sister had a young son and that his father was looking for a nanny, she applied. All she wanted was a chance to get to know him and she was afraid she'd be rejected if she simply asked. Being attracted to Cody's father was not in her plan at all. She had fallen in love with and married her boss once before, and been burned in the process. No matter what she did, her feelings for Josh just kept getting stronger. She knew she had to tell him who she was, but she was so afraid of what would happen when she did that she kept putting it off. When the truth finally came out the results were just as devastating as she expected. Her unhappiness was really heartbreaking. I loved seeing how great Maggie was with Cody. There was such a wonderful connection between them it was easy to see how good a mom Maggie would be.
Josh has been dealing with a boatload of guilt since Lucy's death. They had married because she got pregnant with Cody, but the marriage itself ended up being pretty miserable. Josh blamed himself for not being there for her because of the long hours he worked as a doctor. They had also had a big fight just before she drove off and got in an accident. Now Josh is trying to be dad and mom to Cody after promising Lucy Cody would be his priority. Josh has cut out just about anything in his life that was just for him, including the idea of dating or falling for another woman. He tries to protect himself and Cody from another loss like that. When Maggie applies for the nanny job he is surprised by her youth but accepts her experience as a teacher. It doesn't take long for him to see that she fits into their lives like she's always belonged there. His attraction to her scares him because he doesn't want to risk another relationship. The more time they spend together the deeper his feelings grow, even though he won't admit to them. Finding out who she is causes a deep sense of betrayal in him that he finds hard to deal with. I loved seeing the way that his mother read him the riot act to make him see sense. The ending was excellent and the epilogue was a nice finish to the story.