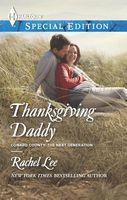 Series:
Conard County: The Next Generation
(Book 17)
Honor, duty and loyalty drove Major Edith Clapton to risk her life flying Combat Search and Recovery in Afghanistan. Hunger, desire and lust drove her into the arms of Seth Hardin, a gorgeous navy SEAL she had airlifted to safety. Their epic one-night stand in the shadow of the Afghan mountains has left Edie facing the most important mission of her life: motherhood.

After sharing her news, Edie is stunned by Seth's insistence on being a father to his child -- and the bewildering feelings this practical stranger has stirred within her. This wasn't part of her life-in-the-air force plan! Should she flee back to military life for a desk job and single parenthood? Or give thanks for this unexpected family?
Very good book. I love military romances where the author really understands the military mind and the challenges that face the characters and I feel that Rachel Lee has nailed this one. Edie has been focused on her mission flying Combat Search and Rescue. When she meets Seth she is attracted to him. Even though she knows they'll probably never see each other again she's tired of denying herself that kind of closeness, so she gives in to her desires. Sure enough, he's called away again the next day and she goes back to flying her missions. A couple months later she realizes she's pregnant. Having never known her own father, Edie knows she has to tell Seth, so she tracks him down back at his home in Wyoming, expecting he'll just throw some money her way and forget about it. When she discovers that he is determined to be a part of the baby's life she is stunned and doesn't know what to do. I liked Edie a lot. She is a strong and independent woman who knows what she wants. While she is surprised by her pregnancy she never really had any doubt that she would have and keep the baby. I also liked the fact that she wasn't going to keep the news from Seth. It was really interesting seeing her have to readjust her thinking from having to deal with everything by herself to having Seth determined to be part of the whole journey. She had a hard time allowing herself to even consider depending on him for anything. It seemed that every time she would open up and allow him closer, something would make her push him away again. She also had to think about all the changes having a baby would make to her career path and how she would deal with those changes. Spending time with Seth and getting to know him just added to the confusion in her mind and in her heart. It took something he said for her to look deep enough to see why she was so confused and then be able to move past it. I loved seeing her happiness at the end.
Seth had retired from the SEALs and moved back home by the time Edie caught up with him. He hadn't forgotten about her during all this time and was happy to see her, then stunned to hear her news. Once he adjusted to the idea he found he was really looking forward to being a father. He was still attracted to her and having a hard time containing those feelings, but they had to deal with the important things first. Seth has no trouble letting her know just what his expectations are, but he's also not going to run roughshod over her wishes. He invites her to stay with him as they try to work out the details. I loved seeing the way he tried to take care of her, even though he had to fight past her independence to do it. Thanks to his own background he seems to understand her fears and is willing to work with her for the best outcome. I loved the solution he came up with, how he presented it, and how he knew when to push and when to leave her alone to think. I also loved the way that he was nervous enough about his own issues to talk to his dad, who had faced something similar of his own. I really liked that he was willing to do whatever she needed him to do and loved how they found the perfect solution together.
One of the best things about the book is the realistic look at what military life can be like, especially for women. When Edie got pregnant she had to give up her flying and take a desk job. She also received a lot of advice, mostly unasked for, and pressure to do certain things. I also liked the interactions between Edie and Seth. They got along very well in large part because they both understood what the other had been through without having to explain things. People who have never been in combat can't truly understand those who have. This book also touched on what being married to a military member can be like for the spouse and family, something else that has to be experienced to be truly understood.