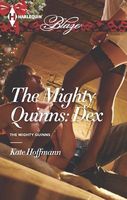 Series:
Mighty Quinns
(Book 26)
Just the right touch…

With her career on the line, Marlie Jenner is determined to make a top-notch documentary about beloved Irish author Aileen Quinn. Which means she needs a top-notch filmmaker; she needs Dex Kennedy. Dex is talented, well respected and Irish. He's also hotter than hell. And when they meet, he looks as if he wants to eat Marlie right up.

Marlie does look delicious, but after a fatal accident during the shooting of his last documentary, Dex refuses to work on another film. Marlie has some very persuasive techniques, however, and after one seductive, drugging kiss, Dex is hooked -- on the film, on Marlie, on the prospect of living again. But every documentary takes on a life of its own. And this one promises an ending that none of them could ever have anticipated….
Very good book and conclusion to this set of the Mighty Quinns series. I really liked both Marlie and Dex. Marlie has always been different than the rest of her family, a bunch of overachieving doctors. She is the artistic one and is constantly being put down by them. Marlie is determined to make her mark as a producer and this documentary about Aileen Quinn is her way to do it. She knows exactly how she wants to do it, but she needs Dex Kennedy's talents to do it. The problem is that he has stopped working on anything and won't take her phone calls. So she tracks him down to make her pitch in person. She wasn't expecting him to be so hot and finds herself incredibly attracted to him. She doesn't want to mix business and pleasure so she tries to resist her feelings, but with Dex feeling the same way they end up together anyway. As they work closely together on the film Marlie gets to know Dex and finds that she wants more than an affair that only lasts as long as the filming. I loved Marlie's determination to make the documentary she envisions and the way she does everything she can to find Dex and convince him. I loved the way that she stormed away but then came back to wait for him at his cottage. She wouldn't give up until she had convinced him that he had to help her. I loved seeing her explain her vision to him and get him as enthusiastic as she was. I also liked the way she stood up for her ideas but also was able to accept his guidance once she realized that he was right. Marlie was also able to see the guilt he was feeling about the death of his friend and filming partner and help him overcome those feelings. The biggest problem she had was a lack of confidence in her own appeal to Dex. She didn't think he'd want to continue to see her after they were done filming so she didn't tell him about her feelings for him. I really liked the way that working with Dex and learning so much from him gave her the professional confidence she needed, and that professional confidence spilled over to her personal life. I loved seeing her stand up to her mother at their lunch and then go after Dex.
Dex has been existing in a depressed state of mind for eight months, ever since the death of his friend while they were filming in Colombia. He feels that Matt's death was his fault since he didn't stop him from going back for that one last shot. Dex has refused to take any calls asking him to do any more films. He's not sure what he's going to do but he can't face filming without his friend. When Marlie tracks him down at his grandmother's cottage he doesn't want anything to do with her film, but he is attracted to her. The strength of his attraction is something he's never felt before. That attraction and need to be with Marlie has him saying yes to helping her. Pretty soon he's as enthusiastic about the subject as she is. I loved the way that he used his experience to make it even better, at the same time teaching Marlie what she needs to know to become a better producer. He also found that being with Marlie brought a relief from the depression he had been suffering from. The longer he was with her the more he thought about continuing beyond the end of the filming. He was stunned to discover that he had fallen in love with her, but was afraid to say anything to her fearing rejection. Dex also discovered, as they researched more of Aileen's story, that his connection to her was much closer than just a professional one. It also caused him to put extra distance between him and Marlie until the film was done. He was so miserable when she had to go back to Boston to report to her bosses that he almost seemed to be slipping back to his old ways. I loved the ending and seeing how they got together.