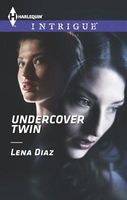 Series:
Morgan Brothers
(Book 2)
DEA agent Nick Morgan had no choice but to break up with the love of his life, Heather Bannon. He knew that if he was seen anywhere near the gorgeous P.I., he could kiss his career goodbye. But when Heather's twin is abducted, Nick reconsiders his priorities.

As Nick leads Heather on a dangerous undercover mission to rescue her sister and topple an elusive drug lord, he knows he was wrong to end their relationship. Working side by side, Nick realizes his love for her is as strong as ever, and he'll risk his life to prove it. Having Heather pose as her twin -- down to her tattoos -- could be genius…or a fatal mistake.
Good book with plenty of action from the beginning. Heather has started her own business as a private investigator. She also has a hunky boyfriend in DEA agent Nick Morgan. Heather also has a twin sister, Lily, who has been in constant trouble. At the beginning of the book Heather has gone looking for Lily and finds her sniffing cocaine and with a bunch of it in her backpack. As Heather is trying to get rid of it, they are caught and arrested in a DEA raid - including Nick. This ends their relationship, Nick being certain he was fooled. He knows that being around Heather would kill his career. When Lily is kidnapped and Heather receives a ransom note, Nick can't stay away. The only way to get Lily back is to attempt a risky undercover operation, but working together is going to be a challenge.
For the most part I liked Heather. Her love for her sister is strong, even though Lily has caused nothing but trouble for her. Getting caught by Nick while flushing Lily's cocaine is just one more thing that Lily has screwed up for her. Heather is especially hurt and angry that Nick won't even listen to her explanation. But when Lily is kidnapped Nick is the only one she can think of to go to for help. When the suggestion is made to use Heather as bait to draw out the drug lord who is the suspected kidnapper Heather is determined to help. She ignores Nick's reservations and goes along with the operation. For all that she is supposed to be a private investigator, I thought she was pretty naive to think that it was going to be as easy as she was told it would be. When the operation goes wrong it is Nick that rescues her and she realizes that he was right all along. Now she has to agree to his conditions if she wants his help to rescue her sister. As things get more intense in the search for Lily, Heather also realizes that her heart hasn't given up its love for Nick. She also knows that there's no future for them because of the conflicts with his job and her problems with her sister. Those problems get worse when Lily is finally found. The effects of the revelations on Heather are devastating and create what appears to be an unbridgeable gulf between Heather and Nick.
Nick is a man who is focused on his career as a DEA agent. When Heather is caught flushing drugs he feels betrayed and cuts off his relationship with her without even asking for an explanation. He gets suspended from his investigation because of his involvement with her. Unfortunately he hasn't been able to kill his feelings for her and gets involved when her sister is kidnapped. Nick is big on trying to control as much as he can and lays out a bunch of conditions if he's going to be the one to help her. He's stunned when she refuses his conditions and goes with the plan the other DEA agent comes up with. Nick has a bad feeling about it and follows, prepared to rescue her if needed. His instincts were right and he ends up pulling her out of trouble. From there he helps set up another attempt, this time insisting on her cooperation. Once again things go bad but this time they are together. Nick realizes that his feelings for her are stronger than those for his job and takes risks to keep her safe. His choice at the end saves Heather but apparently destroys her feelings for him. It really looked like a happy outcome was not going to happen. I loved seeing them both finally realize what was most important. It kind of left hanging what they would be doing career wise - I would have liked to have an epilogue with that information.