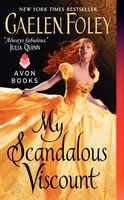 Series:
Inferno Club
(Book 5)
Sebastian, Viscount Beauchamp, lives by a code of honor, and now honor dictates he must marry Miss Carissa Portland. He has no regrets over stealing a kiss from the adorable little busybody -- a fitting punishment for putting her delectable nose where it didn't belong. But now, caught in a compromising situation, he knows he must make her his bride. He's faced danger before -- but nothing like this!

Carissa is not a gossip -- she's a "lady of information." And all she was trying to do was warn the rakehell Beauchamp away from an irate husband. But even she can't flaunt Society, and while her head tells her that Beau's a notorious scoundrel, her heart -- and her body -- are captivated by his dangerous charm. But when Carissa next goes snooping, the secrets she uncovers about the Inferno Club may prove even more hazardous than falling in love with her own husband.
Very good book. Carissa and Beau have known each other for years. Beau is a notorious rake in public, but in private he is one of a group of operatives who protect the country. Carissa is a busybody - or "lady of information" - who tends to poke he nose where it doesn't belong. He's attracted to her but her personality and his line of work are not a good mix. Then she gets hurt trying to save him from harm and the resulting compromising situation forces them to marry. Beau wants to keep her safe and Carissa wants to help him save his friends. Neither of them expects the storm of emotions that connect them.
I liked Carissa even though sometimes I wanted to shake her. The main reason for her nosiness is to be aware of any gossip that might affect her after she made a regrettable mistake with a man. She doesn't understand her excessive interest in Beau, but that doesn't stop her from butting in when she things he's about to be attacked by a jealous husband. Instead she gets between him and a rogue agent and ends up getting shot. When Beau takes her to the Inferno Club headquarters to fix her up she manages to discover his secrets. Between that and being alone with him, they must marry to save their reputations. Beau and fellow club members are under attack from members of their own government and Carissa feels she can use her abilities to help find out the truth but Beau doesn't trust her enough to allow it. Not owning up to that past mistake to Beau has caused him to doubt her honesty. Carissa is a lot smarter than Beau realizes and his refusal just makes her more determined to help. However, she has a tendency to jump in without considering what the consequences of her actions could be. Add in her growing love for him and she is desperately afraid of losing him. After the deaths of her parents when she was young she spent years being shuffled from family member to family member, just wanting to be loved for herself. I loved seeing the way that Carissa's mind worked and how she was able to connect bits of information. I also loved seeing her determination to help Beau even as she feared losing him. The ending was great.
Beau is the Order member who has been left to deal with the government investigation at the same time he is trying to find out what happened to his two missing team members. For relief he goes out on the town looking for a liaison, instead finding himself in a duel of words with Carissa. He can't understand why his brain always seems to shut down around her as he can't help giving her a hard time. He's also made the mistake of kissing her a couple times which just adds to the problem. His fear for her when she gets shot trying to help him makes him realize that he may be in more trouble with her than he thought. The same lack of thinking around her enables her to discover his secret identity and he insists that they marry. He doesn't expect to be so pleased with the idea. I loved how those developing feelings of his show his romantic side (the wedding gifts were fantastic) and how great he was with her that night. When he discovers that she's been hiding a rather important secret from him it causes him to wonder if he really knows Carissa at all. He tries to encourage her to confide in him without telling her what he suspects and is hurt by her avoidance. He still can't deny his feelings and his need to protect her is just as strong. He doesn't seem to realize just how strong her need to help is as he keeps shutting her out of the investigation. I loved the ending as they finally learn to trust each other completely.
The conclusion of the investigation into the Order by the government and the results of the search for the bad guys was very well done. It kept me turning the pages as I tried to figure out what was going to happen next. It was pretty obvious that the government guy had an agenda but the scope of the whole thing was pretty incredible. I loved seeing the way that Beau and Carissa were central to solving the whole issue and what it meant for their relationship. I always enjoy catching up with previous characters and these were no exception.