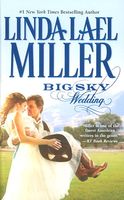 Series:
Parable MT
(Book 5)
Wedding bells are ringing in Parable, Montana, but Brylee Parrish hasn't enjoyed the sound since being jilted at the altar by Hutch Carmody. She's over Hutch now, and running a multimillion-dollar business is challenging enough for this country gal. So she should avoid falling head over boot heels for A-list actor Zane Sutton. He's come home to his rodeo roots, but Hollywood lured him away once and just might again. Yet everything about him, from his easy charm to his concern for his young half brother, seems too genuine to resist….

Zane didn't come to Parable for love -- but count on a spirited woman to change a jaded cowboy's mind. Problem is, Brylee's not convinced he's here to stay. Good thing he's determined to prove to her, kiss by kiss, that she's meant to be his bride.
Very good book. I've been waiting for Brylee to get her own story since Hutch left her at the altar in Big Sky Mountain. Originally she seemed pretty spoiled, but in the books since then she's done some growing up. She's turned her business into a huge success and continues to be a loving presence in her family's life. I really liked seeing how great she was with her niece Clare. There is a wonderfully emotional scene with her brother Walker when she explains to him why Clare wants to go along on a rodeo trip with him and her brother. She has finally admitted to herself that it's time to get over the past and move on. She's lonely and wants a family of her own. It's at this point that Zane Sutton returns to the ranch he and his brother bought a few years earlier. The attraction between them is immediate and hot, but Brylee is pretty wary around him. There have been a lot of Hollywood people who have bought land in Montana, visited once in awhile or lived there for a short time, then gotten bored and moved on. She doesn't want to get involved and then get left again. She starts out judging him pretty harshly, but as she has the chance to spend time with him realizes that he's not what she had expected. When the white hot attraction between them gets too hard to resist they give in to it. Then Brylee panics and starts thinking about leaving town for awhile before she talks herself out of it. She admits to herself that she's in love with him already, but she's afraid to take the chance. I loved what he said to her when he came to see her that relieved her fears.
I loved Zane. He had been a successful rodeo cowboy when he got sucked into acting and became a star. He's had enough of that lifestyle and has come to his ranch in Montana to start a new life. Shortly after he arrives he meets Brylee in the woods between their properties. He feels like he's been struck by lightning but she can't get away from him fast enough. His house is in pretty bad shape and he's just starting to get a handle on what he wants to do with it when his brother Landry calls. Their father has dumped their 12 year old half brother on him and he's getting ready to leave the country for a meeting. Can he send Nash to Zane? It's him or foster care, so Zane says yes. I liked the way he stepped right up to take care of Nash. He could see the pain the boy was in at the way he's treated by his father and the pride that won't let him complain. Zane was terrific at making sure Nash knew that he was wanted and welcome. Besides dealing with Nash he also had his housekeeper Cleo show up and take over the care of the house and getting the renovations started. This freed up Zane to try to get closer to Brylee. I really liked the way that he kept going back to Brylee, trying to win her over. When they had their big passion filled moment he understood what her reaction was going to be the next day. I loved the way that he went to her, told her his feelings, and what his intentions were for the future. It was exactly what she needed to feel secure. The epilogue was fantastic, especially the dance with Hutch.
There were some really funny moments, especially once Cleo made her appearance. I loved the way she fussed and fumed at Zane. There were also some really emotional times, such as when Zane realized just how badly Nash had been treated by their father. I also loved seeing Clare's teenage melodramatics as she would describe her woes to her Aunt Brylee.