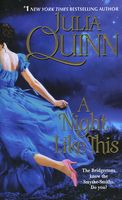 Series:
Smythe-Smith Quartet
(Book 2)
ANNE WYNTER MIGHT NOT BE WHO SHE SAYS SHE IS...

But she's managing quite well as a governess to three highborn young ladies. Her job can be a challenge -- in a single week she finds herself hiding in a closet full of tubas, playing an evil queen in a play that might be a tragedy (or might be a comedy -- no one is sure), and tending to the wounds of the oh-so-dashing Earl of Winstead. After years of dodging unwanted advances, he's the first man who has truly tempted her, and it's getting harder and harder to remind herself that a governess has no business flirting with a nobleman.

DANIEL SMYTHE-SMITH MIGHT BE IN MORTAL DANGER...

But that's not going to stop the young earl from falling in love. And when he spies a mysterious woman at his family's annual musicale, he vows to pursue her, even if that means spending his days with a ten-year-old who thinks she's a unicorn. But Daniel has an enemy, one who has vowed to see him dead. And when Anne is thrown into peril, he will stop at nothing to ensure their happy ending...
Very fun book. Anne is working as a governess to three young ladies. It's not the life she thought she'd have, but it is certainly interesting. It gets more interesting with the arrival of the Earl of Winstead. After spending the last three years exiled from England he's really glad to be home, even more so after seeing the beautiful Anne. He's determined to pursue her but somebody wants him dead and that danger spills over onto her.
I really liked both Anne and Daniel. Eight years earlier Anne, at the age of sixteen, Anne had fallen for a young man in a local family. Thinking he was going to propose she gave herself to him, only to find out he was engaged to someone else. When he accosted her at a local event she cut his face while trying to defend herself. In order to protect her family her father made her change her name and become a companion to an old lady far from home, refusing to allow her any contact with her family. Then she became a governess, always worried about her reputation and her safety. When she meets Daniel she is drawn to him but knows that there is too big a difference in their stations for anything good to happen between them. She can't escape him as he uses his relationship to her charges to find a way to be with her whenever possible. She began to fall for him as she got to know him and also see the love he has for his family. When something from her past puts her in danger it is Daniel she ends up going to for help. I really liked seeing the changes that her love for Daniel made in her. His love for her gave her the courage that she needed at the end to protect herself.
Daniel found himself participating in a duel with a friend. He never quite understood how their card game ended up that way and never meant to injure his friend. That friend's father threatened to kill Daniel afterward, so he ended up spending three years wandering Europe, trying to stay ahead of the people sent to harm him. Daniel was thrilled when Hugh came to find him and tell him it was safe to come home. One of the first things that happened when he got home was seeing a beautiful woman at his family's musicale. Daniel was immediately smitten with her. He didn't care that she was a governess or that her family was lower than his. He was determined to overcome her resistance, even to the point of hanging out with his young cousins. I loved seeing him participate in their activities just so he could be close to Anne. I also liked seeing his protectiveness, both in London and in the country. Daniel showed the changes in his maturity between the beginning and the end. Seeing him go from that slightly irresponsible young man to the one who cared for his family, watched over his estates and people, and protected the woman he loved was very satisfying.
I always love the humor in Julia Quinn's books. The Smythe-Smith musicales are a great frame for this family. It's obvious that there is plenty of love shared among them all and that love extends to others. The three girls that Anne is governess to were so much fun to read about. There was so much about them that made me feel like they were real people, from their squabbles among themselves to the expressions of their imaginations. There were also some great conversations between Anne and Daniel that were fun and flirty. I really liked the way that she had some pretty good comebacks when he'd get carried away.