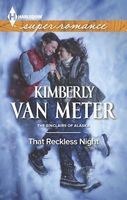 Series:
Sinclairs of Alaska
(Book 1)
He's just a warm body on a cold Alaskan night…

Miranda Sinclair, reeling on the anniversary of her sister's death, indulges in a passionate night with a stranger. The next day she's shocked to discover he's her new boss, Jeremiah Burke! And he got the job she thought was hers.

Still, she's nothing if not practical. She wants to forget about their night together and focus on tracking the poachers killing black bears on her mountain. Besides, she's not looking for a relationship, and her instincts tell her Jeremiah is hiding something. Too bad the attraction between them won't go away, and Miranda starts to wonder if one night will ever be enough….
Good book. Both Miranda and Jeremiah are in a lot of emotional pain. Miranda's sister died years ago and Miranda blames herself. She uses sex to drown out the pain and on this occasion takes a stranger home with her expecting to never see him again. The next day she discovers he's her boss. She fully intends to pretend it never happened and go back to her job of tracking the poachers who have been killing black bears. But the attraction between them is too hard to resist and they find themselves indulging themselves again, risking their jobs and their hearts.
I had a hard time liking Miranda at first. Her habit of sleeping around was very off-putting even though I understood why she was doing it. I did appreciate that once she met Jeremiah he was the only one, but it still grated. I enjoyed her blunt honesty even as it got her in trouble. The pain that she was in as she tried to cope with her guilty feelings was intense especially since she had no one to share it with. Some of her pain came from dealing with her parents who were hiding from their own pain. I hope that we get to see more of them - I really want to see if her mom finally gets some help with her hoarding issues. As she and Jeremiah got to know each other she could see that he was also hiding some intense pain that often caused him to shut down emotionally when they were together. I liked seeing how Miranda started to change and mature as she and Jeremiah got closer. I really liked the way that she was such a good mother to her son and tried to give him all the love that he needed. I also liked the way that she made sure he learned about his Native heritage too. Miranda's respect for her son's other grandmother was great to see.
Jeremiah had come to Alaska to get away from Wyoming and the memories of the death of his son. He feels tremendous guilt over the boy's death because he's the one that bought the ATV for him. The need for escape is what led him to Miranda that first night. He was not happy the next day to discover that he had slept with one of his employees and was determined that it wouldn't happen again. But the sparks between them wouldn't go away and he found himself wanting her even more. Finding out that she had a son caused him to try to distance himself from her because he felt that he couldn't deal with any kind of parenting issues. His conflicted emotions kept him trying to stay away but also finding ways to be with her. I really liked seeing his confidence in her abilities and the way that he encouraged her to look beyond the job that she's currently in. I loved the ending and seeing Jeremiah finally start the healing process.
I also really liked the Alaskan setting. The wildness of the state as well as the hardiness of its residents is fascinating to me. Books set in Alaska are among my favorites.