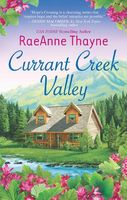 Series:
Hope's Crossing
(Book 4)
If you build it, love will come...to Hope's Crossing.

Alexandra McKnight prefers a life of long workdays and short-term relationships, and she's found it in Hope's Crossing. A sous chef at the local ski resort, she's just been offered her dream job at an exclusive new restaurant being built in town. But when it comes to designing the kitchen, Alex finds herself getting up close and personal with construction foreman Sam Delgado....

At first glance, Sam seems perfect for Alex. He's big, tough, gorgeous-and only in town for a few weeks. But when Sam suddenly moves into a house down the road, Alex suspects that the devoted single father of a six-year-old boy wants more from her than she's willing to give. Now it's up to Sam to help Alex see that, no matter what happened in her past, together they can build something more meaningful in Hope's Crossing.
Good book. Alex is about to have her dreams come true as the head chef of a new restaurant in town, as long as the construction of the kitchen gets done on time. Sam has been hired to finish the kitchen. There's a heat that's obvious between them from the moment they meet. Alex sees no problem getting involved with Sam. She doesn't do commitments and he's only in town for a short time. Then she discovers that he and his son are moving to town permanently and he's interested in more than short term.
I loved Sam. He's a great dad who wants a fresh start for himself and his son. His wife died a couple years ago and then he discovered that his father-in-law was a crooked contractor. Now he's looking forward to living in a small town where people care for each other and look out for each other. He isn't really interested in a new relationship since he's going to be busy setting up his business and taking care of his son. He's attracted to Alex as soon as he meets her and looks forward to getting to know her better. He likes the way she's direct about what she wants. He enjoys her sense of humor and discovers that under her brash exterior is a very kindhearted woman. It's not too long before he's starting to think of Alex in longer terms, but he can't get her to agree. Every time he thinks he's making some progress she pushes him away. He senses that there is a deep pain that keeps her from accepting the idea of a future with him. I really liked the way that he kept trying to get close to Alex. He knew he was falling for her and he was pretty sure that she felt the same but he was having problems getting past her walls. Even when he tried to stay away from her he was aware of what she was doing. I loved his final attempt to get her to open up to him and share her pain. This expressed his feelings perfectly:
"

I love you, Alexandra. Nothing you've told me tonight changes that. I love you in spite of all the reasons you think I shouldn't. In part, maybe, because of the those reasons. You're the person you are today because of everything that has happened to you."
Alex is a serial dater. She doesn't do more than a few dates with any one man, preferring to keep all her relationships light and casual. Part of her fear of commitment comes from the way her father deserted the family when she was a kid. She doesn't want to open herself up to that kind of pain again. Currently she is way too busy getting the new restaurant up and running to spend time with a man anyway. When she meets Sam she finds him very appealing and thinks it would be fun to be with him for the short time he'll be in town. She doesn't expect the intensity of her attraction to him and tries to pull away from him. She's willing to go for friendship with him, but is afraid what might happen if she goes for more. When she finds out that he has a son and that they are moving to town permanently she takes it as just one more reason to stay away from him. I liked the way that her soft heart doesn't let her stay away for long. She adds him to the people she cooks for, finds herself enjoying being around his son, and occasionally is tempted to let him get closer. But as much as she comes to care for him she has a secret pain that she hasn't even shared with her family and friends, that makes her feel that she doesn't deserve that kind of happiness. She doesn't seem to see the same good person that everyone else sees, the one who cooks for shut-ins, takes care of a friend who is dying of cancer, rescues a lost dog and takes it home with her, and is there for any friend who needs her help. I loved the way that she finally opened up to Sam, expecting him to reject her, and is stunned to find out that he doesn't, that he loves her just the way she is.