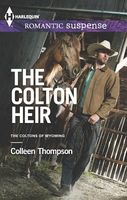 Series:
Coltons of Wyoming
(Book 5)
Wrangler Dylan Frick thought he knew his past -- until a suspicion surfaces that he's the secret Colton heir who vanished from Dead River Ranch as a baby. Now his identity's in question, and his mother's murder is still unsolved. And he's thrown off course by the ranch's mysterious new maid, Hope Woods. The gun-wielding knockout has fear in her eyes and seems desperate to escape her own private danger. Defending Hope -- and keeping her deadly secret -- leaves them both open to unexpected passion. But will protecting her mean walking out of her life for good?
At the end of the last book The Colton Bride, Dylan asked for help finding out more about his murdered mother's background. Some things have come out that have caused him to question who he is. He's having a hard time dealing with the idea that he could be the missing Cole Colton. There is also a new maid on the ranch that turns out not to be a maid at all. Dylan is trying to keep her safe from her mob boss ex-husband's killers at the same time he's trying to discover who is the mastermind behind the trouble on the ranch. As they work together to find answers they are faced with unexpected passion. All they have to do is figure out a way to be together.
I have liked Dylan throughout the series. He's a genuinely nice guy who loved his mother, is happy with the work he does, and has no desire to be the missing heir. He's fighting a lot of anger over his mother's murder and the subsequent questioning of who he is. Even once he knows the truth there are still questions about why his mother brought him to the ranch. His initial meeting with Hope has him doubting her employment until it is confirmed by Amanda. When he hears Hope's story he is determined to help keep her safe. Worrying about her helps keep his mind off his own problems. I loved seeing how determined he was to protect her even if it meant giving up any chance of being with her. His love for her made his decision at the end easy for him. I'll be interested to see if anything changes by the end of the next book.
Hope is hiding out as a maid on her friend Amanda's ranch. She had been married to a man who turned out to be a mob boss. After she turned him in and agreed to testify against him she ended up on the run to escape the people trying to kill her. Just when she thinks she's safe on the ranch, someone tries to kill her there. She doesn't know if her ex-husband's people have found her or if she has run afoul of the "mastermind" who is causing the trouble on the ranch. She does know that Dylan has made it his mission to keep her safe, even at the risk of his own life. I really liked her strength of character that had her doing the right thing at the beginning of the book, and the strength of will she had that enabled her to do what she had to to stay safe. I loved the way that her own problems gave her the empathy to help Dylan deal with his issues. I loved the solution that enabled them to be together at the end.
Events on the ranch are getting more intense. We're seeing more of the mastermind, who we now know is a woman. I still have no idea who she is for sure, though I have a couple suspects in mind. I can't wait to find out for sure. I also want to know the reason for all the trouble. Trip is still causing problems, especially for the female employees. I can't decide if he's part of the whole problem or if he's just a creep. I loved the confrontation between him and Dylan at the end of the book.