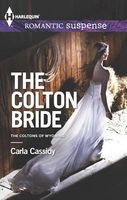 Series:
Coltons of Wyoming
(Book 4)
Ranch foreman Gray Stark and heiress Catherine Colton may live together on Dead River Ranch, but they're from different worlds. She made that clear when she broke his heart years ago. With their passionate, complicated past, marriage is not an option. Until he finds out that she -- and her unborn baby -- are targets.

Making Catherine his wife is the best way to ensure her safety. But as desire resurfaces, it wars with the danger that hovers close. Is Gray ready to face his biggest threat yet to keep Catherine safe…and by his side…forever?
Very good book. After a couple months of relative quiet things are heating up at the ranch again. Catherine is pregnant by a man who only wanted her for her inheritance so she broke it off with him. Now she's a doubly attractive target for kidnapping and ransom. Stepping up to protect her is Gray. As teenagers they were in love with each other until Gray left the ranch without even saying goodbye. Though he's been back for several years they avoid each other whenever possible. Gray can't stand the idea of Catherine being in danger and decides that marrying her would make it possible for him to be with her 24/7. Neither expects their old feelings to resurface.
Catherine had been heartbroken when Gray left without telling her why. She has moved on with her life, and tells herself that she no longer has feelings for him. But when he is the one who rescues her from the first kidnapping attempt she discovers that maybe those old feelings aren't dead after all. She tries to ignore the danger, but after another attempt she realizes that it is real. She doesn't want to endanger her pregnancy so when Gray suggests a temporary marriage so that he can better protect her she says yes. She doesn't expect to start seeing more of the boy she fell in love with in the man he has become. She tries to remind herself that the marriage is only temporary, that when the danger is gone Gray will be also, but she still finds herself dreaming about making it real. I loved seeing the way that they worked together, from the ranch chores they did to their investigation into Dylan's background for him. All of it brought them closer together.
Gray is a great guy who has a few insecurities when it comes to Catherine. He had loved her as a teen, but after hearing part of a conversation thought that she didn't care the same way. Added to his father's assertion that a Colton would never marry a mere ranch hand, Gray decided he needed to leave the ranch. Several years later he returned to take his father's place as foreman, but did his best to avoid Catherine. When he rescues her from a kidnapping attempt he is reminded of the way he used to feel about her. He can't bear the idea of something happening to her so he makes it his job to keep her safe. When another attempt is made from inside the house he suggests that they marry as a way for him to stay by her side. It doesn't take long for him to realize the downside of all that togetherness - his feelings for her are growing again. He still feels that there is no future for them and tries to keep his distance, but it is a losing battle. I was really rooting for him to finally try to fight for her and tell her how he really felt.
The mystery of who is behind the troubles on the ranch is ongoing. There is a glimpse at the end of the person who may be behind it, but they are masked so it's just an impression. My one guess may have already been eliminated, but there are still other options.
Dylan also asked Gray and Catherine to help him find out the truth behind who he is. Some of his (murdered in the first book) mother's information has been called into question and he needs to know the truth. Some of the things they find out create even more questions. Hopefully those will be answered in the next book, which is Dylan's story.