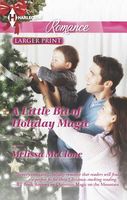 Series:
Hood Hamlet
(Book 5)
A new family…for Christmas?

All widow Grace Wilcox wants is a fresh start for her and her young son, Liam. When her truck spins off the icy road, her rescuer turns out to be the hottest firefighter in Hood Hamlet, and even wary Grace can't say no to his offer of help!

Bill Paulson has stuck to his no-dating rule so far this Christmas, but having Grace in his home is testing his chivalrous side to the limit! Her little boy is melting his heart, even asking for a new daddy from Santa….

But Grace has already loved and lost one hero. Can she really let herself get close to another?
Very good book with some intense emotions. Grace left Georgia to move to Oregon, looking for a new life for herself and her son. The memories of her husband, killed in the war, were too strong back there. When her truck spins out during a snow storm she ends up on Bill's doorstep. Bill is a ladies' man who doesn't do relationships, especially during Christmas time. Something about Grace and Liam compels him to offer them a place to stay while her truck gets repaired. Spending time with them changes him in ways he never expected.
I really liked Grace. With her husband's frequent deployments she was the one left to do everything at home. She often felt that his job was more important to him than their family. After his death the memories were so painful that she packed up her son to move across country. When she wrecked on the way through Oregon during a snowstorm she only had herself to depend on. Her caution when she ended up at Bill's house was understandable. She was surprised by her son's quick acceptance of Bill which went a long way toward reducing her fears. I loved seeing her start to relax in his company and get to know him. The attraction that she initially felt for him began to change the more time she spent with him. She knew that he wasn't a long term kind of guy, but seeing him with her son made her heart melt even more. Because of his job as a firefighter and in search and rescue she also feared losing her heart to another man with a dangerous job. Her fears made it very hard for her to think of a future with Bill. I loved the way that her fears were relieved - such a cool thing to happen. It reminded me of the end of Miracle on 34th Street!
Bill is a man with a fear of commitment. His father has a job that takes him all over the world and Bill has always felt somewhat resentful of the fact he was never around. This makes him determined that he will not get involved in anything permanent until he's ready to actually settle down. When Grace and Liam show up on his doorstep after their accident, first his rescuer instincts kick in. Once he's sure that they're okay he really starts to notice Grace and her beauty. While it's logical to keep them at his house that night he doesn't understand his compulsion to keep them there as long as he can. I loved seeing him with Grace's son Liam. He has an immediate connection with the little boy and I loved how sweet they were together. His attraction to Grace has him tied up in knots because what he feels for her is different than anything he's felt for another woman. He gets really nervous when he find her creeping into his thoughts at odd times and pictures her as a permanent part of his life. This says it best: "with Grace, he'd found something more, someone who not only understood and accepted him, but also made him want to be a better man." I loved his epiphany on Christmas Day and how he went about making his dream come true.