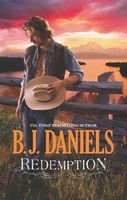 Series:
Beartooth Montana
(Book 2)
"The hunt for justice...and love...begins"

Jack French has had two long years of prison- ranch labor to focus on starting over, cleaning up his act and making things right. When he comes home to close-knit Beartooth, Montana, he's bent on leveling the score with the men who set him up. The one thing he doesn't factor into his plans is beautiful Kate LaFond.

With adventure-seeking in her blood, Kate's got big dreams to chase and a troubled past to put to rest. And even though a red-hot connection to a woman with her own set of secrets isn't part of Jack's plans, he just can't resist Kate and the gold cache she's after...even if it comes at a price.

But when Kate is accused of murder, he realizes she's not only a suspect, but a target. In the Montana wilderness, he'll do whatever it takes to keep her safe from a killer on a quest to rob them of their chance for a new, passionate life with each other.
Good book with plenty of suspense. It kept me turning the pages as I wanted to find out what would happen next, both with the mysteries and with the relationship between Jack and Kate. Jack is back home in Beartooth after getting out of prison for a crime he didn't commit. He had been fairly wild before but is now determined to make a better life for himself. He also wants to find out who set him up. He doesn't expect to get involved with Kate. Kate was left the diner and is using it as a base for her treasure hunt. She has a bunch of secrets that she doesn't plan to share with anyone, but she didn't count on her connection with Jack. When those secrets bring danger to her door Jack is the one who steps up to protect her.
I liked both Jack and Kate. Jack just wants to start his life over. He grew up while in prison and realizes that being a hell-raiser is part of what got him in trouble. He's not sure if he'll stick around or sell his ranch and move on. When he hears a woman being attacked he can't help but step in. Her attacker runs off, but Kate isn't too pleased with his interference. He backs off and plans to stay away from her but keeps finding their paths crossing. He can't get her off his mind and is soon helping her with her treasure hunt. He also wants to clear his name by finding out who set him up. He has his suspicions but he needs to find the proof. I liked the way that Jack protected Kate, even as she was fighting him about it. He was attracted to her but fought it because he didn't want to deal with her secrets. In spite of it all, his feelings for her kept growing. I liked their solution to the treasure hunt. I also enjoyed seeing him figure out who set him up and the way that he ended up getting the proof he needed.
Kate was a very independent woman. She didn't like to rely on anyone else for help. When she was approached by the owner of the diner and told about it and her past she wasn't sure she wanted anything to do with it at first. She soon came to care for Claude and accepted what he told her. After his death she followed his instructions but soon found herself in trouble. As she searched for the treasure supposedly left to her by her mother she was attacked on several occasions by men who were her stepbrothers and also looking for the treasure. Jack is the one who keeps coming to her rescue. She doesn't want to get involved with him but she finds she can't stay away from him. She finally trusts him with her secrets and together they try to find the treasure before her brothers do. There were times I wanted to shake her for pushing Jack away when it was obvious he was coming to care for her. She was also beginning to settle in to life in Beartooth, even though she kept thinking about leaving. I liked the way she finally accepted that she loved Jack and didn't really want to leave.
There was also a secondary story starring Sheriff Frank Curry. He is still nursing his feelings for Nettie Benton. She is still technically married so all he can do is continue their friendship. She rents an apartment to a young woman who seems obsessed with watching Frank and it begins to worry her. Frank talks to the young woman and discovers that she is the daughter he never knew he had. She is exhibiting a lot of anger toward him, having been told a bunch of lies by his ex-wife. Frank really wants to have a relationship with her but her actions are very erratic. There is quite a shock at the end.