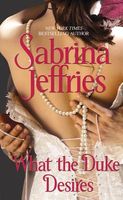 Series:
Duke's Men
(Book 1)
They are The Duke's Men -- an investigative agency born out of family pride and irresistible passion ... and they risk their lives and hearts to unravel any shocking deception or scandalous transgression!

Maximilian Cale, the Duke of Lyons, accepted long ago that his kidnapped brother was dead. When a cryptic note from investigator Tristan Bonnaud claims otherwise, Max seeks out Tristan's sister, Lisette -- and is infuriated to learn that Tristan has mysteriously vanished. Have the siblings perpetrated an elaborate hoax? Or is the fiercely protective beauty as innocent as she claims?

Fearful that the powerful duke will destroy Tristan's career in his zeal for the truth, the clever Lisette convinces Max to accompany her to Paris in a joint search for their loved ones. But their journey takes a seductive twist when they pose as an ordinary husband and wife -- not an English duke with a tarnished family name and the illegitimate daughter of a viscount -- and discover an exhilarating passion free from the damning secrets of the past. With the line between danger and desire enticingly blurred, they discover that some mysteries, like those of the heart, are answered tenfold in the bliss of a true and trusting love.
Very good book with some great interactions between Max and Lisette. Lisette's brother Tristan sent Max a note claiming he has information about Max's presumed dead older brother, but never showed up at a scheduled meeting. Max shows up at Lisette's home and family investigation agency threatening dire things if Lisette doesn't tell him where Tristan is. She doesn't know but will help Max find him, as long as she goes with him. They travel disguised as husband and wife and have a hard time keeping their hands off each other. Both have secrets that make them unwilling to engage their hearts, but they may not be able to resist.
I loved Lisette. After the death of her father she, her brother and her mother were kicked out of their home by their legitimate half-brother who hated them. He also accused Tristan of horse-stealing, causing him to have to flee England for France. Her other half-brother was also cut off by the heir and he took care of Lisette and her mother. He also started his detective agency. Lisette would like to work as one of the detectives but her brothers won't allow it. Neither is there when Max comes pounding on the door, threatening Tristan if he doesn't get some answers. Lisette will do anything to protect Tristan and refuses to tell Max where he is unless she can go along to make sure Max doesn't ruin things. I loved the way that she has absolutely no trouble standing up to Max. He may be a duke but that doesn't matter to her. She doesn't put up with his arrogance, but she doesn't put him down either. I laughed when she told him "
You got off on the wrong foot. I merely watched you shove it into your mouth."
She also is attracted to him, but having seen what happened to her mother when her father would marry her, she has vowed that she will never put herself under the control of a man. There are a lot of sparks between them, but they know that a match between them is impossible. Once they are on the road together they start getting to know one another. Lisette sees that Max hides a lot of pain and is eventually able to get him to talk about it. I loved the way that she was willing to risk her heart even if she couldn't be with him. She tried to protect him from her brothers and from being hurt by her circumstances.
Max had become the heir when his older brother was kidnapped and later died. Many people have tried to convince him that they were his brother so he is wary of anyone who claims to have such information. He is furious when Tristan makes such a claim but then disappears before Max can talk to him. When Max confronts Lisette he is definitely acting like an arrogant duke and makes several really obnoxious remarks. He is surprised when Lisette stands up to him, which makes him actually stop and listen to her. He isn't at all happy when she won't tell him where Tristan is and doesn't want to give in to her demands that she go with him on the search. He doesn't really have a choice and they take off together for France, posing as an ordinary husband and wife. This is fun to watch as Max has never been ordinary in his life and it is a real eye opener for him. He also discovers a strong attraction to Lisette that begins to grow into more. But he refuses to allow himself to let love enter a relationship. He watched his mother suffer when his father went mad and will not put anyone else through that. He is convinced that he is doomed to follow in his father's footsteps. I really liked the care that Max took to protect Lisette's reputation throughout their trip. He really wanted to have more with her but was afraid of what would happen years later. I liked the way that the two of them were able to work so well together to track down Tristan and get to the bottom of the mystery. The ending was fantastic and I loved the way that Max came to the rescue.