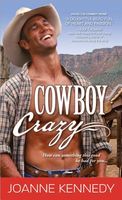 Series:
Cowboy
(Book 5)
From stable to boardroom...

Sarah Landon's Ivy League scholarship transforms her from a wide-eyed country girl into a poised professional. Until she's assigned to do damage control with the boss's rebellious brother Lane, who's the burr in everybody's saddle. He's determined to save his community from oil drilling, and she's not going back to the ranch she left forever. Spurs will shine in this saucy romp about ranchers and roots, redemption and second chances.
Good book. Sarah was very happy to leave her small town behind and reinvent herself. Now she's a public relations professional working for Carrigan Oil. Everything is great until her boss's older brother makes it known that he doesn't want them drilling on the family ranch and wrecking the small town he calls home. Now her boss wants her to go there and convince Lane and the townspeople that drilling will be a good thing. Her mission gets derailed when the attraction between the two of them takes over.
I had a bit of trouble liking Sarah, especially at the beginning. She came across as rather snobby, looking down on the small town people. Her initial opinion of Lane was that he was a footloose cowboy with no ambition and no interest in making things better for the people of his town. She also discovered that she was incredibly attracted to him, which was not in her plan at all. When her boss, who is also Lane's brother, tells her to get close to him and change Lane's mind about opposing the drilling, she is not happy. Going to a rodeo with Lane brings back unhappy memories for her. It also feeds the attraction she feels for him. The more time she spends with Lane the more he succeeds in making her remember the good things about her life in Two Shot, but she still has issues with things from her past. Lane's influence has her allowing the real her to come out more and more. I liked seeing her relax and start to have some fun with Lane. She also has her eyes opened about the truth behind some of her worst memories of her youth. Sarah has been helping out her sister whose got problems with her ex, but later learns that things aren't always like they seem there either. She has a bad habit of judging first before getting the whole story and then it takes a lot to convince her that she was wrong. When she finally opens up to Lane about her past she also confronts him about his rosy view of small towns and shows him what it can be like for the real people. She has a lot of anger and hurt to overcome before she can allow herself to be happy with Lane.
I liked Lane a lot. He is a pretty laid back kind of guy, happy with his rodeo work and running the family ranch. He's content to leave the running of the family oil business to his brother until Eric makes the decision to start drilling on the ranch. Lane doesn't want the ugliness of the drills on his land and he doesn't want the changes that the drilling would bring to his hometown. He's seen what happened in other small towns and has vowed to fight it. He isn't impressed by Sarah when he meets her, just seeing a stuck up city girl who has no idea what ranching and small towns are like. He is surprised by the difference in her when he takes her to the rodeo and by the attraction he feels for her. It doesn't take long for him to see beneath the citified surface to the country girl that is still inside her. As he finds out more of her story he wants Sarah to accept the person she really is. He is persistent about it, but he is gentle about it. He doesn't try to browbeat her into accepting his viewpoint. He also finds the attraction he feels for her growing into something much more. I liked the way that he accepted his feelings for her and wanted to do whatever necessary to bring her around to his side. They still had their differences about life in a small town, and when Sarah's sister became ill and it was an hour's drive to a hospital he finally started to understand her assertion that the town needed the income that the drilling would bring in. I liked the way that he worked out a way for both sides to be happy.
Both Lane and Sarah had somewhat unrealistic views of life in the small town of Two Shot. Lane's view was on the rosy side, seeing only the good things like neighbors watching out for each other, knowing almost everyone, and not having to deal with the stresses of city life. All Sarah could see were the negatives such as judgmental small town people, lack of jobs and money needed for the comforts of life, and the dangers of not having basic services. By getting to know and love each other they also were able to re-evaluate what they wanted from life and come out on the other side as happier people. The attraction and passion between them helped to open up their hearts and minds to the potential for real happiness.