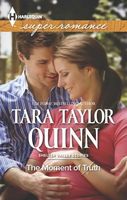 Series:
Shelter Valley Stories
(Book 15)
The best things in life are those you don't expect…

Dana Harris's world has turned upside down. So when she receives the unexpected opportunity to attend Montford University in Shelter Valley, Arizona, she sees it as the perfect time to start over. Especially when Josh Redmond adopts a puppy she's rescued. That's the beginning of an instant friendship between them, even though she senses that he's holding something back…. Still, their friendship culminates in romance -- and a night together. A night that has consequences.

But at Christmas, a surprise revelation and a baby-to-be bring them both comfort. And joy!
Good book, the third in a trilogy within the Shelter Valley series. The first (It's Never Too Late) and second (Second Time's the Charm) books also deal with scholarship students. Both Josh and Dana have personal pain they've come to Shelter Valley to escape. When Josh takes on a puppy she rescued they develop a tentative friendship as she instructs him on its care. When that friendship sparks a passionate night together that neither was ready for, they try to go back to being just friends. When that night results in a pregnancy they have to figure out how to deal with it and each other.
Dana received an unexpected full scholarship to the college, enabling her to get away from the pain of her home life. She had been a teenager when she and her father discovered that she was not his biological child. Her mom had hidden the truth from both of them. Their relationship changed and she felt like a second class member of the family after that. Even her mother treated her differently and I really wanted to smack the woman for it. Moving away gave her a chance at a fresh start. Dana is a very caring and nurturing person and finds happiness working with rescued animals. When she finds a puppy and takes it to the vet she works with she meets Josh who offers to take the dog. She soon discovers that he is totally clueless on dog care and just about everything else. So she takes him under her wing and teaches him how to take care of the puppy, adds him to the people she occasionally cooks for, and generally becomes a friend. She senses that there is some kind of pain that is eating at him but doesn't pry. She also discovers that she is really attracted to him, but feels that there is nothing about her that would appeal to him. When they ended up together that one night, his rapid withdrawal also did a number on her self esteem, especially since she was falling for him. She expected nothing from him when she told him she was pregnant and was surprised by how quickly he took to the idea and how intent he was on being part of the baby's life. Her discovery of the secrets he was keeping devastated her. This added to her convictions that she wasn't good enough for him. I really enjoyed the way she was a mostly happy person outside of her self worth problems. Her joy in helping other people was a wonderful thing to see. I could see how those things she did were also a way to compensate for her feelings of loss.
Josh has come to Shelter Valley as a way to atone for something he felt really guilty about. As a really wealthy young man he worked hard but also played hard. He had been brought up knowing his duty to his family and became engaged to a "suitable" woman even though he didn't love her. When she ended up with a bad case of alcohol poisoning that caused her to be in a vegetative state, he blamed himself. He set up the funds necessary to take care of her, then gave up his job in the family business, got a job in Shelter Valley and decided to leave his previous existence completely behind. He is determined to live on his income from his job and learn to live like a "normal" person. He also wants to become a better person, blaming himself for his "selfish" ways. I loved seeing how intent he was on changing, and how completely clueless he was on how to do anything from using a microwave to cleaning or taking care of a dog. He was attracted to Dana from the moment he met her, but feels that he is a bad bet for any kind of relationship because of his previous actions. He can't resist being around her and finds that asking her help with the dog is a great way to stay close to her. Their growing friendship makes him feel good, but he tries to let her know that he can't and won't do anything that smacks of a real relationship. He is disgusted with himself for sleeping with her but when she becomes pregnant he is determined to do the right thing. I found his efforts to do everything he could for her sweet, but his avoidance of admitting his feelings was sometimes frustrating. His hiding of his background was something that he knew he had to tell her, but he kept putting it off. When she found out it nearly destroyed their budding relationship. I loved the ending and how it was his mom who helped Dana see Josh's pain and the reasons for it.
One thing that ran through the three books was the receiving of the scholarships. None of the recipients had any idea of why they had gotten them and where they came from. By the end of the book we know the who and why and the connection between the three students. I loved the epilogue and how it all came together.