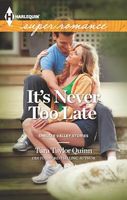 Series:
Shelter Valley Stories
(Book 13)
In the shelter of this town...

Mark Heber accepts a mysterious scholarship to a prominent college in Shelter Valley, Arizona. Being a mature student is a big change from his hardscrabble life in the mountains of West Virginia, one that could transform his whole future.

For attorney Adrianna Keller, Shelter Valley is the scene of a childhood tragedy and she returns for one reason only-her loyalty to college president Will Parsons. Somebody's blackmailing him. Adrianna agrees to investigate discreetly, posing as a student named Adele Kennedy.

"Adele" and newcomer Mark become neighbors and develop a friendship that quickly becomes something more. In fact, Adrianna begins to envision a life with him. But maybe it's too late. Because her secret-and the shocking discovery she makes-could destroy Mark's future. And her own....
Good book. I liked the underlying story of an older student going to college. Mark had grown up in a small town in West Virginia, raised by his grandmother. When she became ill he dropped out of school and got a job so he could take care of her. He was content with his job and had no intention of moving across the country to accept a scholarship but his grandmother outargued him into it. I loved his devotion to his grandmother and the excellent care he took of her. I also liked the way that he had such a sense of responsibility that he also held down two jobs as he was going to school in order to keep caring for her. When he met Addy he was immediately drawn to her, partly because she was older than the average student and they seemed to have things in common. As they spent time together he started to develop stronger feelings and made sure she knew it. Both felt that the timing was off so they didn't want to take it too far, but Mark soon realized he didn't want to wait that long. He did have some self esteem problems stemming from some bad decisions he made as a teenager that made him question whether he was doing the right thing at times, especially when he was contacted by his old girlfriend from West Virginia. He had a great straightforward personality that really showed the type of person he was.
Addy had come back to Shelter Valley to help out an old friend. It was hard for her to be there because of the fire that had killed the rest of her family but she wanted to help Will. The more she looked into Will's possible troubles the worse things looked for him. When she met Mark she was attracted to him but knew she should keep her distance because of what she was doing. She felt really guilty about her deception especially as she got to know Mark better. She also trusted him with a lot more of her feelings than she had trusted anyone before. I really enjoyed seeing the way she did her research. The things she found out worried her both for Will and for Mark. I also liked the way that even though the things she found looked bad she didn't consider doing the wrong thing. Another thing I really liked about her was the way she cared for Mark's grandmother. It was obvious that she really liked the woman and enjoyed being with her, even with Nonnie's outspokenness and interference. I loved the solving of the mystery and the information that came out about Mark's education.