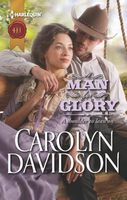 TRUE LOVE...UNDER FALSE PRETENSES?

With her husband hanged for his secret criminal past, bewildered widow Glory Clark is left all alone to run the farm and care for her stepchildren. Then handsome stranger Cade McAllister shows up on her doorstep, bringing hope and tender feelings Glory has never experienced before in her young life.

As a detective in search of the missing fortune Glory's husband stole, Cade has a hidden agenda. An arranged marriage is merely a stepping stone to getting what he wants.... But when what he wants becomes Glory, plain and simple, will their newfound bond withstand his deception?
Good book. Glory had come to Green River after the deaths of her parents caused her to leave a wagon train headed west. With no means of support she ended up in a platonic marriage with Harvey Clark to care for his kids and his home. Three years later he's been hanged for his part in a long ago bank robbery and she's alone with the kids trying to keep the farm running and away from people looking for the stolen gold. When Cade shows up, supposedly looking for a farm to buy, she's inclined to trust him. Besides that feeling of trust there is something about him that draws her to him.
I really liked both Glory and Cade. Glory had an incredible amount of inner strength, first when she set out on her own to find a better life, and then when she took charge of keeping the farm running after her husband's death. I loved the way she was such a good mother to Buddy and Essie, giving them both the love and the discipline that they needed. When Cade showed up she was cautious at first, but she soon got the sense that she could trust him. There was something about him that also worried her a little because she didn't understand the feelings he was bringing out. I liked the way that she listened to his reasoning on why they should get married but then took the time to think about it. I could see that her insistence on waiting for the physical wasn't going to last long. I really liked the way that their love grew in a slow realistic manner. She was frequently surprised by his care of her and the little things he would do to make her happy. I also liked the way that she made Cade an important part of the family from the beginning. I loved her courage at the end.
I thought Cade was a pretty terrific hero. When he arrived and met her it was under false pretenses because he didn't know if he could trust her. He did know as soon as he met her that he wanted her in his life. As he talked her into marrying him, one eye was on the search for the missing gold, but the rest of his attention was on Glory and the children. I really enjoyed seeing how much time he spent with the kids and how good he was with them. He was just the role model that Buddy needed and had a wonderful way of being able to talk to him. And I loved the way that little Essie had him wrapped around her finger. I really liked the way that he was determined to make the farm into something worthwhile. His easy care of Glory and the way he treated her was wonderful. It was easy to see how e fell so quickly in love with her. He realized he was tired of the life that he had been living and that being with Glory was just what his heart and soul needed. I liked the fact that he felt guilty about keeping his secret from Glory, but was also afraid of what telling it might do to their relationship. Except for this one thing I really liked the way that he was honest with Glory and the kids about his thoughts and feelings. I loved how things ended up. I'd love to see stories for Buddy and Essie and how their lives turn out.