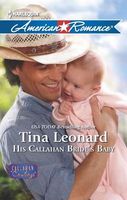 Series:
Callahan Cowboys
(Book 10)
"Marry Me, Taylor."

Those aren't the three little words Taylor Waters longs to hear from her crush, Falcon Chacon Callahan. The whole town knows the soldier-turned-rancher just needs a bride in order to inherit the coveted spread north of Rancho Diablo. Taylor wants more-even if Falcon is the hottest cowboy this side of the New Mexico border, which he proves one crazy, passionate night!

Family has always come first for Falcon, so when he finds out Taylor is pregnant with his baby, he declares a brand-new mission: to stand and fight for what's his. It will take maneuvering through some dangerous situations-and that legendary Callahan charm-to make Diablo's best girl fall in love with him. But to have his ranch at stake is one thing...what about his heart?
Good book. I liked both Falcon and Taylor though I must say they had a strange romance. Falcon has known Taylor for about a year, though they've never gone out. He is drawn to her and figures she'll do as the bride he needs to inherit the ranch. He proposes but is kindly refused. The ladies of the town feel that she can do better so he is told to leave her alone until Christmas and then see if he still feels the same way. He tries to work around the rules set down and manages to get Taylor alone at the ranch with him when they are attacked. Taylor helps fight them off but their night is pretty wrecked. He realizes he's going to have to play by the rules. There is another time when he comes to protect her and they end up making love and she gets pregnant. Now he is determined to get her to marry him but there are a lot of things that get in the way, not the least of which is her getting kidnapped. Falcon seems to do a lot of waffling. First he is going all out to get her to marry him. Then he backs off. When he finds out about the baby it's on again. The one thing he never does is talk about his feelings. When Taylor is kidnapped he finds it incredibly hard to follow his grandfather's advice and wait to rescue her. He begins to get an idea of his feelings but still never talks about them with Taylor. I did love the way that he became instantly in love with baby Emma and turned into Mr Overprotective. It was very sweet. I also liked seeing the way that it took an intervention from his family to see what he was doing.
Taylor had had a crush on Falcon for a long time. While she loved hearing the proposal he offered, it meant nothing without the love that needed to be there first. She was sure that if she spent enough time with him she would give in so she tried to avoid him when she could. When she and Falcon ended up having that one passionate night, she knew she had fallen but she was still holding out hope for love. While she was glad that he was happy about the baby, she didn't want that to be the reason they married so she still refused him. I wasn't really thrilled with the way she was going out with Benton even after she found out about the baby. It seemed a bit like manipulation to me. I was glad when she finally went to Falcon and they started talking about getting married. When she was kidnapped I liked the way she was able to keep her confidence up that she hadn't been abandoned when time went by and she wasn't rescued. She seemed to kind of withdraw from him a bit after Emma was born and he spent all his time with the baby, making her think that was all he really wanted. I loved her part in the confrontation at the end.
It will be interesting to see how this story continues and what happens with the uncle. I'm looking forward to seeing the other brothers as they meet their matches.