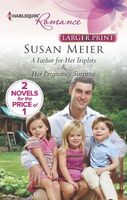 Series:
Mothers in a Million
Single mom Missy Johnson has worked hard to provide her adorable triplets with the secure childhood she never had. But now that her baking business has taken off, Missy's left struggling to juggle cupcakes and kid.
That is until gorgeous Wyatt McKenzie comes back to town, bringing memories she'd prefer stayed locked away... But when she sees him bonding with her mischievous trio, Missy realizes five might just be the perfect number.
Good book. Missy's life is finally looking up. After her husband deserted her and her triplets she had a real struggle to make ends meet. Now her baking business is taking off and she has to figure out how to juggle her business and three four year olds. She wasn't expecting Wyatt to come back to town along with some memories she'd rather forget.
I really liked both Missy and Wyatt. Missy had overcome a lot so far in her life. Though her childhood and teen years looked ideal from the outside, her father was a drunk and abusive. Then she was abandoned by her husband with three babies and no money. I loved her strength of will that allowed her to carry on and dream of a better life. She was determined that all her focus would be on her kids and her business until she felt stable enough to get involved in another relationship. She never wanted to be dependent on another man again. When Wyatt arrived next door to go through some things at his grandmother's she couldn't believe the changes in him. Gone was the skinny nerd who was her math tutor, replaced by a gorgeous sexy man. To add to the package he hits it off with her kids, especially her son. That alone is enough to get her heart's attention, but there is also an undeniable attraction between them. Missy is still wary and insists that they don't pursue it but just be friends. The more time they spend together the closer they get. I loved the way that she trusted him enough to tell him about her father. I also liked the way that she understood his fears and was able to relieve them.
I thought Wyatt was a real sweetheart of a guy. I love a nerd gone sexy type of story and this had it all. Wyatt had taken some time off from his business to go through his grandmother's house. He's also trying to get his personal life back together after being screwed over by his ex-wife. Seeing Missy brings back the memories of the crush he'd had on her and then the way she'd stood him up on graduation night. He doesn't expect to still be attracted to her, and has no intention of ever being in another relationship. She makes it clear to him that she doesn't have room in her life for that either, but neither is she interested in a fling. So Wyatt has to make do with friendship and finds that he is enjoying it. I loved the way that he gets so involved with the kids, especially Owen. He identifies a lot with Owen because the kid is the only boy in the family and therefore something of an outsider, just the way the Wyatt always felt growing up. I also loved the way that Wyatt stepped in to help Missy with her cake business, though he made her mad when he first offered her money. The compromise he worked out with her was great and the confidence he showed in her was just what she needed. One of my favorite scenes was when he took the kids to get flowers for Mother's Day. I felt so bad for him because of the way he was so down on himself. He really thought he was a bad person who wasn't worth wasting love on. He was so sure that he would hurt Missy if he tried to have a relationship with her that he didn't see that he was hurting her anyway. I loved his "aha!" moment and the difference it made to his whole outlook.