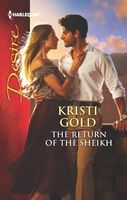 Series: Bajul (Book 1)
His Latest, Greatest Conquest

After a seven-year absence, Crown Prince Zain Mehdi returns to his throne with a tarnished reputation and finds a fiery, blue-eyed political consultant named Madison Foster to help him repair it. But Madison isn't just another plaything for the sheikh....

A romance between a royal and a commoner is forbidden, yet Madison can't resist the passionate nights in Zain's bed, lying spent in his strong arms. Loving the crown prince is dangerous enough, but would Madison's latest secret-a royal baby of her own-derail Zain's reign for good...or end in happily ever after?
Good book. Zain has returned to Bajul to take his place as king. He had left seven years before after arguing with his father about bringing the country into the modern era. Since leaving he has acquired the reputation of a playboy and now has to repair that image in order to go forward with his plans. He is not happy that his brother has hired Madison to provide that help. He's more interested in luring Madison to his bed than in talking business with her. Her independence and attitude draws him as much as her beauty and he soon finds himself hooked on her. But there is one thing he can't change about his country and that is its need for him to choose a royal bride. I liked Zain's attitude toward modernization and the information that came out about his activities while he was gone. He gave his brother Rafiq a hard time about marrying for duty, but was willing to give up Madison for the same reason. I enjoyed seeing Zain open up to Madison about his past and his hopes for the future of his country. He also got emotionally closer to her and was torn about what to do. His solution was both a surprise and expected.
Madison is an independent woman who is very good at what she does. She knows she can help Zain if he will just give her a chance. She has good ideas to help him but she is also fighting a losing battle with her attraction to him. I really enjoyed the way that she didn't back down when she had something to say to him. Their conversations were a lot of fun and really did a lot to increase the connection between them. She knew that there was no chance of a future between them but still found herself hoping. When she found out she was pregnant she refused to bring a new scandal to him and tried to sneak away. I loved the conclusion and the epilogue set up the next book (Rafiq's story) very nicely.