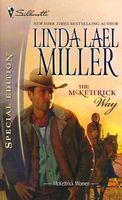 Series:
McKettrick Cowboys
(Book 9)
She wanted his baby... and he wanted her!

Meg McKettrick longs for a baby--husband optional. Perfect father material is gorgeous Brad O'Ballivan, old flame and new owner of his family's ranch in Stone Creek. But Meg--as strong, proud and stubborn as her ancestors on Indian Rock's Triple M ranch--wants to do things her way...the McKettrick way. And Brad feels just as strongly about the O'Ballivan way...

Love, marriage, babies and a lifetime to share--that's what Brad wants. Not a single night of passion, an unexpected pregnancy and a woman who won't budge. For a rugged rodeo cowboy who never gives up, it's a battle of wills he intends to win...and nothing matters more than claiming Meg's wild McKettrick heart.
Good book. This was a fairly calm, sweet reunion romance. Brad had come back to Stone Creek tired of his life on the road as a country music star. Now he plans to get back to his ranching roots and spend time with his sisters. He also hopes to see Meg McKettrick again and make amends for the way he left so many years ago. I liked Brad a lot. He is a nice guy, not one of those stuck up type of stars. I liked his initial meeting with Meg and the sense of humor that he showed at all of her comments. He knew he had messed up when he left, but he had never forgotten her and now realized that the feelings were still there too. There were some things in their past that he hadn't known about that he had to come to terms with and his time with Meg's family helped with that. I enjoyed seeing his resistance to the efforts of his manager to get him reinvolved in the business and how his sister nagged him too. I also liked the way that he and Meg didn't rush things at the end.
Meg was back on the ranch and sort of enjoying the time after being so busy with the family business. She is surprised to hear that Brad is back, supposedly to stay. There is still a connection between them that she can't deny. I really enjoyed their conversations and the way she constantly gives him a hard time. One thing that she has realized lately is that she really wants is a baby and Brad would be exactly the father she wants, but she is also afraid to trust him with her heart again. She found that she couldn't stay away from him and also that her love for him had never gone away. Just when things were starting to look out he finds out about her secret and she has to deal with his feelings over that. I thought she dealt pretty well with the appearance of her father and an unknown 12 year old sister. She was wonderful with Carly and handled her attitude in a realistic way. I really enjoyed her interactions with Angus's ghost, she gave him a real taste of what modern women are like. I would have liked to see a bit more of Brad and Meg together and how they were overcoming their issues, but overall a good story.