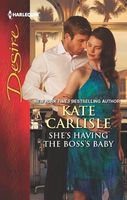 All Systems Are Go!

Ovulation cycle? Check. Estrogen level? Check. Nothing can stop Ellie Sterling's baby-making attempt at the fertility clinic. Nothing but her CEO boss-and good friend-who offers her an alternative to leaving their island headquarters: let's make a baby the old-fashioned way.

It isn't that Aidan Sutherland wants to be a baby daddy; he just doesn't want to lose his senior VP. But Aidan's plans for romance and candlelight quickly turn business into pleasure. After one night with his pal Ellie, the bikini-chasing billionaire is dazed, confused and-could it be-in love?
Good book. Ellie wants a baby of her own. She hasn't had any luck finding a husband. The island of Alleria is a great place to live and work, but the men who come there are mainly tourists, so she has decided to have a baby on her own. When she asks for the time off to make it happen her boss offers to give her a baby so that she doesn't have to leave the island.
I liked both Ellie and Aidan. Ellie had had a rough time as a child and teenager with an alcoholic drug addicted mother. She and her older sister took care of each other and when their mother died they continued to do so. Ellie is extremely intelligent and once she got her degree she was determined to be the absolute best so that her life wouldn't be uncertain again. Working for Aidan and his brother is the perfect job for her and she has become indispensable to them. She also has a bit of a crush on Aidan though she wouldn't do anything about it and risk her job. So she is stunned when he offers to help her become pregnant so that she doesn't have to leave the island for an extended period. She worries that the lines between them will get confused and that she will fall in love with him. The more time they spend together outside of business the more she finds she was right. She wants more from him than just sex and friendship but she doesn't know how he feels about that idea.
Aidan is all about the fun and no commitment when it comes to relationships. He appreciates Ellie for her abilities and doesn't want to lose her for the weeks she would be away. He knows that everything runs better when she is there to oversee it. He has no desire to be a father but is willing to make the sacrifice to keep Ellie on Alleria. He doesn't expect to suddenly notice how beautiful Ellie is and experience an attraction unlike anything he's felt before. I loved seeing how he starts seeing her as a woman and can't get her out of his mind even when he is working. His jealousy when other men pay attention to her is fun to watch because he doesn't know how to deal with it. He keeps denying his feelings to himself even as his brother tries to make him see the truth. I loved the way that he finally went after her and admitted the truth.