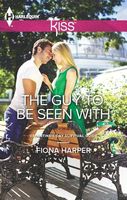 Series:
Valentine's Day Survival Guide
(Book 2)
London's most eligible guy-finally snared?

Who can forget gorgeous adventurer Daniel Bradford? Especially after this commitment-phobe's on-air rejection of his girlfriend's marriage proposal sparked a scandal! But some people love a challenge. With Daniel suddenly back on the market, all of London's single ladies are on the lookout. Yet he's shown no inclination to get caught by anyone...until now.

So just who is special enough to catch his attention? Our sources reveal she's strong-willed blonde bombshell Chloe Michaels, orchid specialist and Daniel's new colleague. And rumor has it that with this tough cookie, London's very own Indiana Jones is in for the-romantic-adventure of a lifetime!
Very good book. There was a lot of emotion flying around that did much to counteract my feelings about Daniel. Daniel has had to cope with unwanted fame after he rejected his girlfriend's proposal. The single women are stalking him and he wants nothing to do with them. When he meets Chloe there is an immediate attraction between them and he starts to pursue her. She really doesn't want to get involved with him but he doesn't give up.
I thought Daniel was a jerk through most of the book. Even though Chloe had told him she didn't want to get involved with him he kept pushing. There was a lot about her that appealed to him but it all appeared to be superficial - he never really seemed interested in what was beneath the surface. Even when he finally got her to go out with him he was still only interested in the physical. His reaction when he found out about her past acquaintanceship with him was harsh and cruel and totally unfair. I thought he was unreasonably angry for too long. He eventually told her why he doesn't intend to fall in love ever again and I understood his reasoning, but that was still no excuse for the way he treated her. I liked the fact that he eventually saw what a jerk he had been and apologized and wanted to be friends again, but I was glad that Chloe didn't cave in. It took a long while for him to realize just what he had done and accept what an idiot he had been. I loved seeing him on the receiving end of the embarrassment at the end. I loved the ending but still feel that Daniel has more changing to do.
I liked Chloe better. She had been a geeky student with a huge crush on Daniel ten years earlier. When she made a fool of herself with him he rejected her bluntly, with no kindness at all. She took that event as a catalyst to change some things about herself and became much more confident as a woman. When she met Daniel again she discovered that he didn't recognize her and decided to leave the past where it was. She realized she was still attracted to him but didn't want to risk her heart again and tried t discourage him. When they got thrown together while trying to counteract some of the negative publicity from his rejection of his former girlfriend they started to develop a friendship that grew to be more on her part. She was devastated by his accusations when he discovered their previous connection, but had no problem letting him know that he had it wrong and why. I loved seeing her stand up for herself. When he finally apologized she accepted it but told him to leave her alone. I liked the way that Chloe looked at her own actions and realized that the "New Chloe" still hadn't been the real her and made the effort to find her real self. Their tentative return to friendship while they worked on the exhibit was good. I completely understood her actions at the ceremony, but also liked what she did after. I did like the ending.