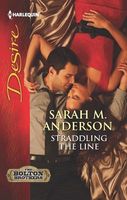 Series:
Bolton Brothers
(Book 1)
She Only Wants to Belong

CFO Ben Bolton has enough on his plate running his family business. But when lovely Josey White Plume enters his office, his priorities shift. He refuses to let such a compelling woman walk away. The chase is on.

All her life, Josey has sought one thing: to fit in with her Lakota family. She has no time for some sexy rich guy's pursuit. But she can't stop thinking about Ben-wanting him...kissing him. Yet falling for a wealthy outsider will destroy everything she's worked for-unless she can find a way to straddle the line between his world and hers.
Very good book. I liked both Josey and Ben. Both of them are trying to find their places in the world. Josey has returned to South Dakota from New York after breaking up with her boyfriend who tells her she doesn't "fit in" with his world. Unfortunately she also feels like she doesn't fit in here either. Because she and her mother both have white heritage along with their Lakota they are looked down on by their fellow tribe members. They are trying to start a charter school to help some of the youth with education and job training but are having a hard time supplying the school with enough to get it open. Josey goes to the Bolton's motorcycle business to ask for a donation of tools. She doesn't expect to get turned down flat and tries to convince Ben of the need. She also doesn't expect the intense and unwelcome attraction to him. The last thing she wants is a relationship to a white man when she's trying to fit in with her mother's people. But as she and Ben spend more time together it becomes obvious that he understands her and likes her just the way she is. She spends a lot of time and effort trying to get the people of the reservation to accept her before she realizes that Ben's statement that you have to know yourself first is very true.
Ben is another one who is looking for his place in the world. He is the middle son and the one who runs the financial side of the family business. He gets no respect from his father who doesn't believe in the money management ideas that Ben has. He is also the peacemaker among his brothers and father, trying to keep his promise to his mother to "keep the family together". When he meets Josey he is immediately attracted to her, but turns her request down, knowing that he'd never get his father to agree. He sees her again in his other world as the drummer in a rock band and the attraction is even stronger. He really wants to get to know her better but realizes it might be a bad idea. I loved the way that a conversation with his brother Billy makes him realize how important a thing it is that Josey is doing and causes him to rethink helping out the school. I loved his visit to the powwow and the way he was able to relate to the kids he saw there. I also loved the respect he had for Josey and her mother and the way it showed in his actions. His confrontation with his family at the end was fantastic and I loved the solution that they finally came up with.
It took a lot for both Josey and Ben to finally see that they didn't have to pick one part of their lives over another. They just had to find a way to make those worlds work together.