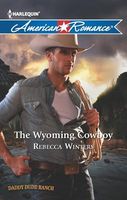 Series:
Daddy Dude Ranch
(Book 1)
A Cowboy Who Cares

Former Marine Carson Lundgren's Wyoming ranch is a place where families of fallen war heroes can find joy and healing. The wounded vet is eager to give back, while rebuilding his own life. The last thing he expected is to fall for his first guest and her young son.

Widow Tracy Baretta and six-year-old Johnny have been struggling since losing their husband and father. When they meet Carson, his strength, patience and generosity-along with how great he looks on a horse-leads little Johnny to call him "king of the cowboys." They've fallen in love with the place...and maybe with the man himself.

But is Tracy just looking for a surrogate father? Or could this incredible cowboy really be the one who'll make her and her son believe in love again?
I loved this book. Carson and his two buddies have been medically discharged from the Marines because of lung problems caused by their time in Afghanistan. All of them feel guilty about not being able to continue so they decide to give back another way. They start a ranch where they can bring the families of fallen comrades so that they can enjoy a vacation and the men can provide some moral support. Their first guests are Tracy and her son Johnny whose father was in their unit. Johnny has been very withdrawn since losing his father and Tracy hope the change of scenery will help him.
I loved Carson and Tracy. Carson was raised on the ranch by his grandparents after the deaths of his parents. He wanted to see more of the world and joined the Marines, leaving his grandfather to run the ranch. While he was away his grandfather passed away and Carson realized what he had been missing in his life. He felt guilty about not being there for his grandfather. While in the hospital he and his friends came up with the idea of how to use the ranch to help the families of fellow vets. They decided to start small with one family at a time, with Tracy and Johnny being the first. Carson is stunned by his reaction to Tracy when he first sees her but does his best to ignore it. His main focus is on helping Johnny. I loved the way that he was so wonderful with the little boy. He had the perfect mix of encouragement and sympathy and was able to get Johnny smiling and participating very quickly. He also found himself wanting to spend more time with Tracy and to see if she felt the same way. But he also didn't want her to feel that he was trying to cut her late husband out of her life. It was a hard balance for him to try to come up with.
Tracy had been struggling since her husband's death. Her son was no longer the happy boy he had been and she had trouble getting him to participate in much of anything. She was surprised to get the invitation to the ranch and thought it might be just what Johnny needed. When they first saw Carson both of them were blown away. Tracy did not expect such a good looking man and the zing of attraction that she felt. Johnny simply fell into an immediate case of hero worship. I loved the way that Tracy was determined to protect Johnny and his feelings while still trying to encourage him to try new things. She was extremely moved by everything that Carson and his friends were doing for her and Johnny and the others that would be participating in the program. I also liked the way that she could see that there were things that troubled Carson and that she wanted to help him the way that he was helping them. She was worried about their growing feelings for Carson and the effect that it would have on Johnny when it was time to leave the ranch. As much as she wanted to stay and see what might develop she also worried that it was too much too soon. She was also afraid of the effect it would have on her late husband's family for she and Johnny to get involved with someone else. I loved the appearance of her in-laws and the discussion she had with her mother-in-law. I am really looking forward to reading the stories for Carson's two friends.