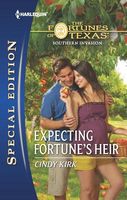 Series:
Fortunes of Texas: Southern Invasion
(Book 5)
JUST A KISS AT NEW YEAR'S

That was all Natalia Serrano had intended. She couldn't believe she had slept with a complete stranger! Lia had never done anything so out of character in her life. Now, against all odds, she was pregnant-and she had no idea how to find her mysterious, memorable lover.

It had been months since Shane Fortune had been in Red Rock. But no amount of time could have prepared him for the revelation that Lia was expecting. His child, she said. The distrustful Fortune executive vowed to take control of the situation. What he couldn't control, however, was the hold the beautiful Latina and her unborn baby were quickly taking over his heart....
Very good book. Shane and Lia had connected on New Year's Eve, when neither wanted to be alone. They didn't share any information about themselves and when Shane was called away the next morning he was a bit of a jerk and didn't even exchange phone numbers. When Lia ended up pregnant she had no way to reach him to let him know. After losing her job, then getting hired by Shane's brother Sawyer, she was surprised to see him when he showed up one day. And he was equally surprised by her news.
I liked both Lia and Shane, though he spent a good share of the book fighting his feelings and being the occasional jerk. Lia had never been one to have one night stands and to end up pregnant was just the icing on the cake. She and her brother had been raised by a single mother and she always swore that she would not do that to any child of hers. When she reconnected with Shane, she made sure to tell him about the baby right away. She was angry and hurt when he accused her of trying to scam him. She was determined that he would accept it and did her best to keep him connected. She was pleased when he started spending more time with her and they decided to try to get to know each other properly. As the weeks went on they grew closer and began to deepen their growing friendship. Lia began to hope that they had a chance at a future together even though she sometimes had the feeling that he was hiding something from her. I really liked her openness and honesty and how she didn't try to hide anything from him. This made his actions later in the book even more hurtful to her.
Shane was stunned at the news of Lia's pregnancy. Having been burned before by women trying to take advantage of who he was, he was very distrustful of her claim and didn't bother to hide it. He was supported in those feelings by his brothers, especially Sawyer, who didn't want to see him get hurt. They encouraged him to get close to her in an attempt to find out if there was anything that could be used against her. That way Shane could go for full custody and keep the baby away from her. But the more time he spent with Lia the more he came to believe that she was being completely honest with him. His feelings for her began to grow past friendship but he was still leery of trusting her completely. There were some things he did when he first learned about the baby that came back later and got him in major trouble with Lia. At that point he realized what an idiot he had been and had to figure out a way to get her to forgive him and let him back into her life.
We also get to learn a little more about the mystery of the woman that the Fortunes' father has given all that stock to. They are stunned by the information that they found out, but now have to wait on seeing their father again to get the rest of the story.