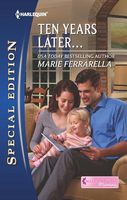 Series:
Matchmaking Mamas
(Book 10)
The one who got away...and came back

What was "he" doing back here, disrupting Brianna McKenzie's cozy world? Sebastian Hunter, heartbreaker extraordinaire, had actually shown up to their high school reunion. All at once, she felt that unshakable chemistry again, the life that might have been if he'd stayed in Bedford. Broken promises and regret. Why would she even consider getting involved with him again?

If it weren't for his mother's suspicious encouragement, Sebastian would never have attended the school function. But then he saw Brianna, the woman he'd blocked from his thoughts for years as he threw himself into his work. The past-those feelings he never quite forgot-came rushing back. This was his chance-to walk away again or face the person who'd captivated him, body and soul.
Good book, all about second chances. I liked both Brianna and Sebastian. Brianna had been heartbroken when Sebastian left her behind when he went to college. They had been planning to go together, but she stayed to take care of her father after he was in a bad car accident. They drifted apart and she hadn't seen him since then. Now she is a nurse and the adoptive mother of a four year old little girl. She was stunned and not very happy to see him at their class reunion. He asked her to check on his mother, in her capacity as a nurse and when his mom asked Brianna to help her recover she couldn't say no. So she and her daughter moved into the house with Sebastian and his mom. This gave them the opportunity to get to know each other again. Brianna could feel herself starting to fall for him again. I liked the way that she had put taking care of her father over her own interests, and how that led her to the career she loves. It's easy to see that she is the type of person who cares deeply and tries not to hold grudges or be bitter. The background of how she became Carrie's mother was a perfect demonstration of this. I loved the way that she suspected something was off about Barbara's illness but didn't want to believe it. It took her awhile, plus a talk from her father, before she found the courage to take a chance again.
Sebastian rarely came home after he left to go to college. He had wanted to get away and was going whether Brianna went with him or not, but he couldn't believe she wouldn't go with him. Now he rarely visits and when he does they are brief and he doesn't try to see Brianna. When he gets a call from his mother saying she's been ill and wants to see him, he comes right away. He's not happy that she then guilts him into his class reunion and even less happy when he runs into Brianna. But he also can't stop himself from asking her to dinner the next night. He uses that time to ask her to take care of his mother and learns about her daughter when he picks Brianna up. I loved his surprise and the way he kept jumping to conclusions. I really enjoyed seeing him get to know Brianna again and also be around Carrie. He was so good with her and she opened his eyes to what he had been missing all these years. He also began to see and admit that his attitude back then had been very selfish. He also realized his was still trying to protect his heart. I loved the ending and the surprising twist that it included.