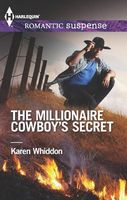 UNDERCOVER SEDUCTION

Undercover ATF agent Skylar McClain dreams of justice and lives by the law. She "always" gets her man. Armed with a killer smile and an undercover identity as a photojournalist, she should have no problem bringing down any criminal-even a sexy millionaire horse breeder. But no assignment has ever tested her boundaries like Matt Landeta. His connection to Mexican drug cartels makes him dangerous. Only, what if there's more to this case than right and wrong?

All Matt wants is revenge. Not a gorgeous distraction like Skylar, whose hunt for answers will complicate things. Yet an unexpected enemy is about to bring Skylar closer to the truth...and to Matt. And letting go of his darkest secrets might be the only way to protect her.
Good book. Skylar has been sent undercover to Matt's ranch to find out the location of the large stash of ammunition that Matt is supposedly selling to a Mexican drug cartel. She is devoted to her job and is known for bringing her cases to a successful conclusion. Five years earlier her husband and son were killed during a bank robbery and she feels guilty about it. Going after the bad guys is her way of dealing with her loss. She was not expecting an immediate and intense attraction to Matt - the first she'd felt since her husband's death. She certainly didn't want to be attracted to a man she considered to be a criminal. As she tries to track down the location of the ammo she is also fighting the attraction. She also becomes more certain that Matt is not the criminal that she thought he was. When she finds out that her cover was blown she and Matt come to an agreement to continue his plans to trap one of the cartel members. As they work together Skylar realizes that she has fallen for Matt and is willing to risk her job to help him. There is a lot of confusion during and after the final confrontation and it takes some major soul searching on Skylar's part for her to be willing to risk her heart on Matt.
Matt's parents and brother had been murdered by a member of the cartel when he was away from home. He felt as though they would still be alive if he had been there. Now he wants revenge and is willing to do whatever he can to achieve it. He has even gone so far as to change his name. He has acquired a lot of ammunition and is hinting that he would be willing to sell it to the cartel member that killed his family. When Skylar arrives on his ranch in her cover identity he is already aware of who she is and why she is there. He is not happy about his attraction to her and the distraction she causes. He tries to continue with his plans but ends up bringing her into it when she gets involved in an attack on him. I liked the way that he respected her abilities enough to include her in the planning even as he wanted to keep her safe. I loved the way that being with Skylar helped Matt come to terms with his own losses. The events that happened after the final confrontation showed him just how much he wanted Skylar in his life.