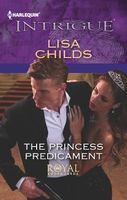 Series:
Royal Bodyguards
(Book 2)
PASSION, PERIL AND A PRINCESS IN HIDING

Forced into hiding after a threat to her life, Princess Gabriella St. Pierre must protect both herself and her unborn child. Working at an orphanage, the princess tries to suppress memories of a passionate night long ago with Whit Howell-her father's royal bodyguard and a man she never thought she'd see again.

When an attempted abduction occurs as Princess Gabriella is leaving the orphanage, Whit rescues her and vows to keep her safe. But how can he shepherd the princess back to her country without knowing who is orchestrating these attacks...and why? It is the most important mission of his life-and he'd risk everything to save the one woman he can't live without.
Very good book. The action started immediately and never really stopped. When it's time for Gabby to leave the orphanage where she's been hiding she is nearly abducted. Whit arrived just in time to rescue her from that attempt, but they are later captured and must escape. Gabby has to decide if she can trust Whit and he must decide if he can go after what he wants.
I really liked both Whit and Gabby. Gabby is a lot smarter than people give her credit for. When her father promises her in marriage to one man, then switches fiances on her without notice she is furious. In her attempt to get to her father to argue with him, she is stopped by Whit and they end up having a one passion filled night together. Then she goes into hiding and he doesn't know if she's alive or dead. I loved seeing her in her work at the orphanage and how happy she has been there. She has loved being able to live as an ordinary person away from her father's manipulations. The one big issue she has had was finding out the truth about her heritage and the fact that Charlotte isn't just her bodyguard but her sister also. She feels betrayed by everyone she has cared about and feels that she can't trust anyone. She doesn't want to return to St. Pierre and have her father force into a marriage, especially since she is pregnant with Whit's baby. I loved her determination to stand up for herself and how she tries to get away at first. When she realizes that she needs Whits help she becomes an active part of the process. The time she spends with him is intense with the danger they are in but she also realizes that she still loves him and wants him in her life. She also wants to be wanted for herself, not because she's a princess or because of the baby. She has never felt truly loved and understands why after she finds out the truth, but she wants more for her own life and that of her baby. The ending was pretty intense and still shows her innate goodness.
Whit was assigned as the king's bodyguard when he had that night with Gabby. He had always been drawn to her but was very conscious of their differences. Besides the obvious, he had also had a pretty miserable childhood and didn't feel that he had any chance of being a good father. He had mourned her loss when she disappeared fearing that she was dead. When he found out she was alive he went to get her to escort her home and was stunned to find her pregnant. He was determined to keep her safe, especially as they were attacked and captured. He didn't know who they could trust and who was behind the attacks. I loved his care of Gabby and how much he obviously loved her. His constant lack of self worth regarding his feelings for her were rather frustrating. He was so confident and proactive in everything else I just wanted to shake him. I enjoyed his surprise at seeing the true Gabby under the princess exterior that he was accustomed to seeing. He really had his eyes opened about how capable she really was. Their actions at the end were great and I loved seeing Whit finally go after what he truly wanted.