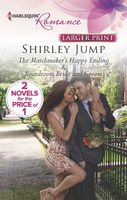 Series:
Mothers in a Million
Professional matchmaker Marnie Franklin is delighted when she finally finds a great guy for her widowed mom--until she discovers that the man's son is none other than Jack Knight. Successful and dreamy-looking he may be, but she blames Jack for destroying her father's business. With her mother totally smitten with his dad, Marnie can't avoid Jack.... Well, not without destroying her mom's well-deserved happiness.
Soon Jack is forcing her to reconsider what really happened all those years ago. He's determined to show her that her own Mr. Right is indeed right under her nose.
Very good book. Marnie has great instincts as a matchmaker and has made many successful matches. Her mom has been alone for a couple years and is thrilled to have found a man that her mother really likes. When she finds out that his stepson is Jack Knight, the man she holds responsible for the loss of her father's business she is not happy. Her mom is head over heels which means Marnie will see a lot of Jack. One thing she is having trouble dealing with is her attraction to him. Every time they are together she can feel the pull of her emotions but her mind just can't forget what happened to her father. The more she sees of him the more he appeals to her but she just can't let go of the past. I loved her closeness with her family and how much she wanted to protect them from hurt. It took awhile for her to realize that events from her childhood had made her want to control everything possible in her life and also made her avoid spontaneity and risk. I loved the scene at the end with the ducklings sculpture.
Jack is a great guy. He had started in business with his father, a ruthless corporate raider. Because he was still trying to get approval from his father he was following in his footsteps. When he was assigned to Marnie's father's account, Jack started questioning what he had become and made the decision to leave his father's business and change his ways. Shortly after that his father died and Jack returned to the business and started trying to make amends with the people his father affected. When he first met Marnie he didn't know who she was but was immediately attracted to her. Even after he did he still wanted to get to know her better. I loved his persistence and the way he tried to show her how things had changed. I loved seeing the way he was changing things. I loved his presentation at the shelter and Marnie's reaction to it. I also loved his understanding of the way Marnie feels and how he wants to help her get past it so they can have a future together.