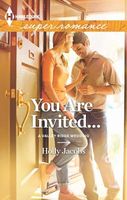 Series:
A Valley Ridge Wedding
(Book 1)
Valley Ridge, New York's most unlikely couple

For Mattie Keith it's the best and the worst of times. She should be reveling in the joy that one of her closest friends is getting married. Instead, she's being sued. All because of the three kids she recently inherited. She's trying to do what's best for them...even if it means fighting in court with the children's uncle, Dr. Finn Wallace. None other than Mattie's first and last crush.

Yes, Finn's heart is in the right place. But can't he see that by living with him, the kids won't have what they have here in Valley Ridge-a real home? While Mattie's trying to show Finn what he's missing, she's also trying to fight her growing feelings for him. Is he standing in the way of her happiness, or is he her happiness in disguise?
This was a fantastic book with some very emotional moments. There were also some pretty funny things to help offset some of the angst. I really liked both Mattie and Finn, though he wasn't very nice at the beginning. Mattie gave up her gypsy-like existence when Bridget got sick and came home to Valley Ridge to take care of her friend and her children. When Bridget passed she left Mattie with custody of the children. Now she has to learn to be a parent instead of the favorite aunt and she is feeling really overwhelmed. When Finn sues for custody her confidence takes a nosedive. He is their uncle, has a great job as a respected surgeon, and has the financial resources to do a lot for them. As much as she wants to shut him out of their lives and let the court decide, she knows that the kids need him in their lives too. I really liked the way that she sucked it up and invited Finn to spend as much time as he could with the kids. She tried very hard not to let her feelings against him influence her actions. She did a great job of keeping things good when the kids were around and I loved the way she was able to tell him what she thought of his actions when they were alone. In spite of her doubts about her abilities she knew that they needed love and stability and she did her best to provide that. There were several times that I couldn't help crying as she talked about their mother with the kids or when she talked about her time with her friend. She was also dealing with feelings of not belonging, of being an outsider in her own hometown. I loved the way that the more time she spent there and with the kids the more settled she felt. She also found as time went on and Finn spent more time with them that he was getting better with the children. She is sure that means that he will win and she'll lose the kids. But she also finds that she has come to like him and depend on him. There is a relationship growing between them that also scares her because she doesn't think that anything can come of it. I really liked the way that they went from antagonists to friends and then beyond.
Finn started out as a distant somewhat cold man. He only saw what he could do for the kids financially, not seeing that they needed the love and connection to their home that they had with Mattie. As a doctor he had great experience at locking away his emotions and didn't know how to let them out again with the kids. He was also dealing with his guilty feelings for not being there for his sister when she was sick because he didn't know how to deal with not being able to fix her problem. All he could see in Mattie was the woman who didn't stick at anything and was known for packing up and leaving at a moment's notice. It took him awhile to see that she provided something for the kids that he had no clue about. He knew he had to spend time with them and get to know them before uprooting them and taking them back to his home. As he spent time with them he began to open himself up to those feelings again. He began to see that what he saw as a perfect solution really wasn't and had to decide what to do. He also realized that when he was away from them during the week he missed them all and that his attitudes had changed. I loved seeing him grow closer to the kids and see more about what they needed. I also loved his growing feelings for Mattie that he didn't really understand until the end. I loved seeing them as each tried to come up with a solution that would work for them and the kids. The ending was terrific and so satisfying.