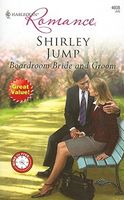 Series:
Nine to Five
Out of the office and into his arms....

For gorgeous lawyer Nick Gilbert, an after--hours rendezvous with a woman usually means a romantic dinner, not a children's charity picnic. But he's game! Especially as his date is his rather prim but intriguing colleague, Carolyn Duff....

Watching her with the little kids, Nick sees a new side of Carolyn. He starts to understand the glimmer of sadness behind her dazzling green gaze. When the real woman behind the all--business facade is laid bare, Nick has never seen anyone more beautiful....
Good book. Nick and Carolyn had gone to law school together and been friends. They decided on a whim to marry and shortly after decided it was a mistake and divorced. Though they live in the same town they rarely see each other until both get involved with a children's charity picnic. Now they have to figure out how to deal with their pasts and their renewed attraction.
I really liked both characters. Carolyn's mother had died when she was small and then her father was murdered right in front of her. She ended up living with an elderly aunt who had no emotional warmth so she had no exposure during those years to any kind of love. Because of that she kept her emotions inside. Her biggest focus in her life was to become a lawyer and help put criminals like the one who killed her father in jail. Now she is a workaholic who puts her job ahead of everything else. When her lawyers group gets involved with a charity working with foster kids she comes in contact with Nick again. What she remembers most from her time with him was that they had passion and fun but when she needed his support he wasn't there for her. Seeing him again brings it all back, including the attraction that is so hard to resist. Carolyn has never really had anything to do with children and she feels completely overwhelmed at the picnic when she is paired with a young boy whose father was also killed. It was so hard to see how much trouble she had relating to the children there and how unhappy and inadequate it made her feel. With Nick's help it got a little easier to do and I loved when the two of them paired up to help him even more. I liked the way that helping Bobby also helped her to deal with her past. She also began to see that both she and Nick held responsibility for the problems in their marriage. I loved that they were able to talk about things without arguing, though she did have a tendency to avoid confrontation when she could.
Nick had always been a fun loving guy. He had been the one to suggest their marriage, but then didn't really know how to deal with Carolyn's intensity. When their marriage ended he accepted it and moved on. His law firm was also involved with the charity picnic and he ended up paired with Carolyn. He was still attracted to her and found he still cared about her too. Seeing her struggle to connect with the kids made him look a little deeper and remember some of the things she had told him about her past. He begins to actually understand her issues and jumps in to help her. I liked the way that his memories make him realize that he had been pretty insensitive back during their marriage and how he now wants to try to make amends. I love the way that he talks Carolyn into helping him with Bobby. Nick also realizes that part of the reason he isn't that intense about his job is that it doesn't really excite him. Working with Bobby gave him an idea he could get passionate about and I loved the way he got his law firm involved.
Both characters had some issues they had to overcome before they could be happy together. Carolyn finally realized that she couldn't save the world and became open to some new ideas. Nick finally grew up and was able to put his abilities to work in a way that satisfied him. I loved the conclusion and Nick's "treasure hunt."