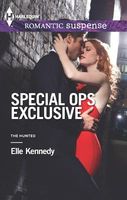 Series:
The Hunted
(Book 3)
A WANTED MAN MEETS HIS MATCH

In the midst of revolution, about to be trampled by a rioting mob, star journalist Rebecca Parker won't give up on a story-even when a sexy military man literally sweeps her off her feet to safety. Nick Prescott is a hot number, hot copy and a bad liar. Who is he? Who needs him dead? How is he tied to a sinister government plot? By teaming up with Nick to uncover the truth, the red-haired spitfire puts her own life in danger. Ignoring his warnings to walk away, Rebecca proves she does what she wants...but does she get the love that she needs?
Excellent book and conclusion to the trilogy. Rebecca is a hot shot journalist covering a Central American election. When she gets caught in a riot Nick comes to her rescue. Her journalistic curiosity gets the better of her when she recognizes him and she starts looking for answers about why he is there. This puts him back in the crosshairs of the people looking for him and gets her in trouble with them also. Soon they are both on the run as they get closer to the mastermind behind the conspiracy.
I really liked both Rebecca and Nick. Rebecca loves her work as a tv journalist. She thrives on getting into the heart of a story no matter how dangerous it is. I loved her intensity and how determined she was to do her job. When she met Nick there was an attraction between them that was like nothing she had ever felt before and she was very willing to pursue it. When she recognized Nick and started asking questions about why he was there she didn't expect it to put her and everyone she worked with in danger, even though Nick had told her to walk away and forget she'd ever seen him. When he saved her again from those who tried to kill her because of him she insisted on sticking with him and helping him find out who is behind it all. Her ability to adapt to any circumstances and her unwillingness to be left behind where it was safe ended up being a big asset to Nick and his search. I really enjoyed the way she stood up to him and went after what she wanted, whether it was the story or Nick himself. One of the things I loved most about her was the way that she understood Nick and his motivations. The more she got to know him the more her feelings changed from just physical to a deep emotional attachment. She also listened to him talk about his dreams for the future and realized that what he was talking about wasn't her style. This caused her to pull away from him emotionally but she still stuck with him to pull off the final confrontation. I loved the way she refused to compromise her own dreams just to keep him with her.
I loved Nick from the first book on. He was the one who seemed to be the most laid back and easy to deal with. There was also the feeling, however, that you really didn't want to get on his bad side. The first time he saw Rebecca doing her reporting from the middle of that rioting crowd he was drawn to her. He has always kept a tight hold on his emotions and as much as he wanted her he told her flat out it wasn't going to happen. He doesn't do casual hookups and there was no way he was going to have a relationship with someone who constantly put herself in danger. His dreams center around a relationship like his parents had, with his mom being the calm port in the storm of their lives. When Rebecca's curiosity about him puts her in danger his protectiveness comes out. He keeps trying to keep her safe and she insists on being right there with him. It drives him nuts that she won't cooperate but the intensity of their growing attraction keeps her on his mind constantly. I loved the way that they were able to work together and how well their abilities complemented each other. As they got closer to solving the mystery Nick got more worried about the identity of the person behind it all. Rebecca was able to help him deal with those worries. He was still being blind about what it was he really wanted in life until a discussion with his father made him open his eyes. The resolution of the conspiracy finally showed him that he could have it all.