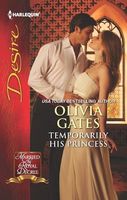 Series:
Married by Royal Decree
(Book 1)
"Get a wife. ASAP."

When his king says Prince Vincenzo D'Agostino must marry, the confirmed bachelor knows only one woman will do: Glory Monaghan, the lover who betrayed him six years ago. By forcing her hand, he'll appease his ruler-and get the woman he can't forget out of his system forever.

But Vincenzo's proposal is the last thing Glory expects. His long-ago rejection nearly destroyed her-how can she say yes now, even for show? Yet she has no choice. Becoming Vincenzo's temporary wife will save her family-even if giving in to the prince's passion will surely leave her yearning for more....
Very good book with some very intense emotions. Six years earlier Vincenzo and Glory had been in the middle of an intense relationship as well as working together. Then Vincenzo broke things off saying such cruel things to her that they nearly destroyed her. Now he is back with a proposition that would have her married to him for a year in order to keep her family out of prison. She doesn't know if she'll survive being that close to him again, but how can she resist?
I really liked both Vincenzo and Glory though both had moments that made me angry at them too. Glory had been so in love with Vincenzo six years earlier that she was willing to do anything for him. Besides their intense physical attraction she was also instrumental in helping him with his business. She was devastated when he broke things off, saying truly nasty things to her. In the six years since then she has never gotten involved with another man. She is stunned by his arrival with the proposal that she marry him for a year or he will expose her family's crimes and make sure that they go to prison. I loved the way that even though she says yes she doesn't give in to his demands easily. She has a terrific way of snarkiness that just doesn't quit. I loved her comebacks to his demands. She doesn't understand his amusement as the Vincenzo she remembers had no sense of humor. She is also fighting against the sizzling attraction that has not gone away but that is a losing battle. When she gives herself permission to just enjoy the time they have together the passion they have is off the charts. As she fulfills her duties as his wife and princess her heart becomes completely his once again. When she discovers what had driven them apart all those years ago was happening again she was devastated and convinced she's lost him again.
Vincenzo had cared for Glory so much that when he received evidence of her betrayal he was unable to even think of prosecuting her. So he drove her away and tried to move on with his life and business. When the king ordered him to marry before taking his government position Glory was the only one he would even consider. So he decided to blackmail her into doing it never expecting that the attraction he still felt was only the surface of the deeper feelings that had never gone away. Six years have changed her and she is not making it easy on him. I loved his reactions to her comments and his delight in her attitude. He doesn't understand how he never saw this side of her until he thinks back to his actions and sees that he had never shown her either. He is determined to have her in his bed again and is blown away by the passion between them when he succeeds. His attitude toward her begins to change almost immediately as he accepts that she would not have willingly done the things he thought she did. When the same problems as before begin to happen, this time he is unwilling to believe that Glory is behind it. As the truth comes out he realizes that she had been innocent all along and now he has to find a way to bring them back together.