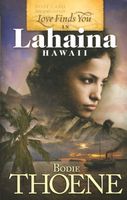 Series:
Love Finds You
A CENTURY -- OLD SECRET IS ABOUT TO BE REVEALED IN LAHAINA, HAWAII.

1973. For four-and-a-half lonely years, Sandi Smith has wondered if her husband, a soldier missing in action in Viet Nam, is alive or dead. A research trip to Hawaii provides a welcome diversion. As Sandi interviews the oldest woman in Lahaina, she is swept into the life of a princess born nearly a century before...and a surprising love greater than she could ever dream.

1889. Greed and danger abound in the changing politics of Hawaii. The beautiful Victoria Kaiulani Cleghorn, Crown Princess of Hawaii and the next royal heir of the kingdom, is sent to England with her best friend, Hannah, to guarantee her safety. Two men vie for Princess Kaiulani's hand -- Clive, the handsome son of her English guardian, and the dashingly cocky Andrew Adams. But all is not as it seems. Betrayal swirls around her. With her kingdom in jeopardy and her own life in danger, whom can Kaiulani trust?
For a fictional book about the life of Princess Kaiulani of Hawaii I thought this was very well done. I have read a few that were so bad I couldn't finish them. It starts out with the story of Sandi, who has come to Hawaii to interview Hannah who had been a good friend of the Princess. She has been in kind of a limbo as her husband has been missing in Vietnam for almost five years. She has come to Lahaina for a school project. I loved the way that she is absorbed into the Hawaiian community and becomes so comfortable with the people. She has an immediate connection with Hannah and is fascinated by all the information that Hannah has given her for her research. She also gets to know Hannah's great grandson, a wounded Vietnam vet. There are feelings that develop between them though Sandi doesn't feel free to pursue them since she doesn't know if her husband is alive. The conflict between those feelings and the love she still feels for her husband creates some interesting scenes in the book. I liked the way it turned out.
The majority of the book deals with the life of Princess Kaiulani as she leaves Hawaii to go to school in England. She is accompanied by her half-sister Annie and her friend Hannah. On the voyage they meet Andrew Adams who is rather full of himself. He wants an interview with Kaiulani, but is a bit obnoxious when he speaks to her, thinking he is talking to Hannah. This sets the scene for a prank that will have long term effects during the book. On arrival in England they also meet Clive Davies who is smitten by Kaiulani. Over the next few years both men make a play for Kaiulani's heart.
Kaiulani, as a royal princess, has been sent to England for two reasons. First, to be educated in the ways of a world larger than that of the Islands. Should she become Queen there is a lot she needs to know. She is very young when she first arrives in England and seems to spend a lot of time in lighthearted pursuits. As she gets older she is called upon to represent her country in various appearances. In this book she meets a young Winston Churchill, who inspires her to become more serious about her studies. The second reason she is sent to England is for protection. There is a lot of unrest in Hawaii as King David Kalakaua deals with a group of American businessmen who wish to do away with the monarchy and run the Islands for their own benefit. After his death and Queen Liliuokalani took the throne but was quickly deposed by those businessmen and their provisional government and placed under house arrest. She refused to let Kaiulani return to Hawaii for fear of Kaiulani's life. Eventually she does return to a Hawaii far different than the one she left.
The author did an excellent job of portraying the upheaval going on in Hawaii at the time. She also showed Kaiulani's homesickness and love of her homeland. She is also shown as a real person who makes mistakes and isn't always perfect. Her descriptions of the settings were vivid. I enjoyed the glimpses of her friendship with Robert Louis Stevenson. While she played with the history of what really happened it was an excellent story. The ending was an interesting "what if" twist.
Forth from her land to mine she goes,
The island maid, the island rose,
Light of heart and bright of face:
The daughter of a double race.

Her islands here, in Southern sun,
Shall mourn their Kaiulani gone,
And I, in her dear banyan shade,
Look vainly for my little maid.

But our Scots islands far away
Shall glitter with unwonted day,
And cast for once their tempests by
To smile in Kaiulani's eye.
- Robert Louis Stevenson written to Princess Kaiulani to mark her journey to Britain.