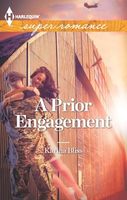 Series:
Special Forces
(Book 4)
He's back from the dead, on a new mission...because two can play her game!

After two years as a POW presumed dead, SAS soldier Lee Davis is finally going home. Back to his family, friends and...fiancée? He doesn't have a fiancée...the night before his last deployment, Juliet Browne rejected his proposal. That makes the sight of her playing the grieving almost-wife beyond infuriating. Feigning amnesia, Lee decides to put Juliet's "commitment" to the test.

Yet tormenting her conscience isn't as easy as Lee thought it would be. Juliet's still the woman whose memory got him through the worst of his captivity and her actions now prove she cares-a lot. And despite her betrayal, he needs her more than ever. Because Lee is beginning to realize that for him, Juliet is home.
Fantastic book. Lee is back home after being presumed dead and is confronted by a lot of changes, not the least of which is Juliet's presence in his friends' lives as his
fiancée

. She turned down his proposal the night before he left so how dare she be playing the part? Lee decides to fake amnesia and see if he can guilt her into a confession.
Jules had a lot of emotional baggage. She had grown up watching her mother jump into emotional relationships after knowing men for a very short time. She swore she would not do that herself. When Lee proposed after only six weeks she asked for more time for them to get to know each other but he stormed away in anger, not contacting her again. When his friends gave her the engagement ring after Lee's "death" she couldn't bear to disappoint them by telling them the truth. She spent the next year and a half getting involved with Lee's friends and family, suffering from terrible guilt but unable to figure a way out of it. Lee's return only made it worse because he apparently didn't remember the proposal. She wanted to tell him the truth but was afraid of what it might do to his recovery and kept up the deception. When she finally told him the truth about what happened and her feelings it was obvious that she was still trying to protect him. She offered to get out of his life and was surprised when he didn't take her up on it. Her actions showed how much she still loved him and wanted to help him. There is an incredibly intense scene toward the end that shows just how much she loves and trust him and really opens Lee's eyes to how much he has to work through.
Lee had spent almost two years as a captive not knowing that everyone thought he was dead. In spite of Jules's refusal he spent those months thinking about her and what he could do to win her back. My impression of the pre-captivity Lee is that he was the kind of guy that things came easy to. He loved Jules and didn't understand her refusal even though she explained that she just needed more time for them to know each other. I thought he behaved like a jerk when he walked away from her. When he returned and heard about her being his
fiancée he was angry and decided to work on some revenge. His actions weren't very nice. I liked the fact that as angry as he was he realized that he actually still cared for her. When his amnesia story started to fall apart he finally confronted her and was stunned by some of the things she told him. I liked the way that he began to realize that he had changed and was never going to be like his old self. I liked the new Lee once he stopped the revenge thing. He and Jules began to develop a real relationship that actually had a chance of surviving.
This is an incredibly emotional book as Lee deals with the after effects of his captivity. He has a hard time talking about what happened and mostly tries to ignore it. He also has to deal with his friends and the way that their lives have changed and the decisions they have made.
I loved the realism in all four books and how the issues and problems they had to work through were dealt with. Nothing has been minimized or given an easy solution.

There is a really emotional scene when they all sit down together to talk about the explosion and its effects on all their lives. Even at the end of the book Lee isn't magically healed but he is on the right track with Jules's love and support.