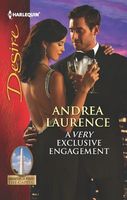 Series:
Daughters of Power: The Capital
(Book 5)
"What happens in the elevator, stays in the elevator, right?"

Trapped between floors with his spitfire employee, media mogul Liam Crowe can't control the chemistry. First, Francesca Orr is calling her new boss names in the boardroom; next, she's kissing him! Now Liam has some choice names for Francesca: fiancée, maybe even wife. Because the only way to keep control of the scandal-plagued news network he's just acquired is if he settles down, and Francesca is perfect fake-fiancée material. But when she goes along with the plan, things get real-really fast-because there's nothing fake about Francesca....
Good book. Liam has purchased the network after the previous owner was arrested in a phone hacking scandal (
No Stranger to Scandal
). Francesca is giving him problems because she is advocating for her projects and not backing down. She has called him some uncomplimentary names, in Italian which he doesn't speak. There is something about her which has really gotten his attention and when they get trapped in an elevator together things get pretty heated. When his aunt, who owns a good chunk of the network's stock, threatens to sell those shares unless he settles down, he approaches Francesca to help him out.
I really liked both Liam and Francesca. Liam has good ideas for bringing the network back from its scandalous past but he is being pressured by his aunt. His attraction to Francesca has him thinking that maybe he can kill two birds with one stone - save the network and get closer to Francesca. He figures that if they pretend to be engaged he can eventually convince his aunt to back down. When he makes a bargain with Francesca he also manages to show her how good they can be together. It was fun seeing him work so hard to remind himself that this was a fake engagement and that it would end while at the same time immersing himself in the pleasure of Francesca's presence in his life. When they end up having to marry he's still fighting his feelings. I liked the way he ended up saving his relationship with Francesca.
Francesca was a very interesting heroine. Her mother is Italian and her father is Irish. There is a lot of passion in her personality. I loved the way she stands up for her projects in the board meeting. When she and Liam get trapped in the elevator she has no problem giving into her passions but her mind takes control when they are rescued and she has to face what happened. When Liam comes to her with his proposition she really isn't sure until she sees something she considers a good omen for the idea. I liked the way that she and Liam worked together to make things better at the network. She found herself liking him more and more and those feeling quickly grew into love. She wanted to think that things could work out but she kept seeing signs that things were going to go wrong. I have to admit that her superstitiousness kind of irritated me. Her mother made a comment that I really liked "If you believe in your heart that you are doomed before you start, you will be right." She allowed those superstitions to cause her to lose faith in the possibilities. She very nearly threw it all away because of them.
There were some really good scenes that kept me turning the pages to see what would happen next. The elevator scene was definitely hot and showed their chemistry to perfection. The wedding planning sessions with Ariella and Scarlet were fantastic. The wedding cake confrontation was a real page turner to see what Angelica would do. I absolutely loved Liam's conversation with Francesca's father and his aunt. Of course, the final resolution with Liam and Francesca was the perfect coming together of the two of them.